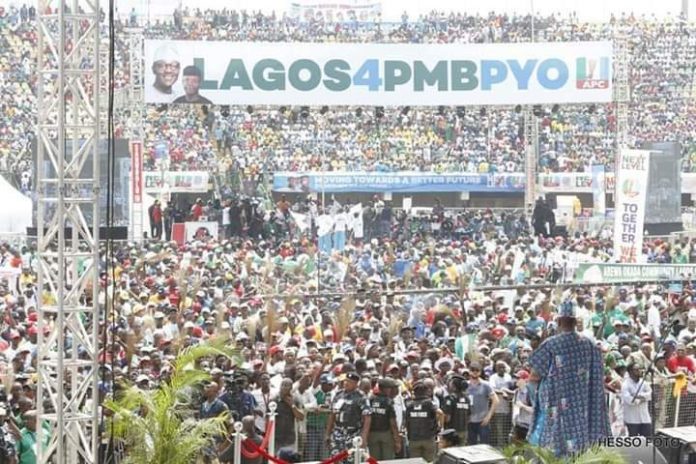 An advocacy group for The Propagation of Good Governance in Africa(PGGA), "The Nalazai Political Hub" has said the presidential election will favours incumbent President Muhammadu Buhari reelection bid for a second term in Office by 69%.
According to the group, the factors that predominately played out in the random sampling is premised on honesty, character, track records,fundamental campaign promises and manifesto of political parties as the parameters for the polls results. Life is good and the world in particular will become a better place if visionary and honest leaders serve the people with obstinate determination.
Mr President is said to have that determination to steer the Ship of State and repositioned the country to greater heights in consonant with The Next Level concept of accountability, economic progress, transformation agenda and national rebirth.
National rebirth incapsulates setting the stage for constitutional amendment that will devolve powers and responsibities currently residing in the Federal Government to the States. This will go a long way to decongest the exclusive and concurrent list in the constitution. Ensure strict autonomy for Local Government as a revolutionary measures to allow for a down flow and sustainable development of trickle down policy and equitability in sharing Nigerians common resources in accordance with a review revenue allocation formula to be negotiated across the board.
The book Facts and Fallacies, page 350 to 353 as edited and designed by Dorling Kindersley Limited gave an account of an Indian Guru during 1953 to 1972 called Sai Baba. The Indian Sai Baba had extra ordinary qualities, he was a man of the people, he provided solutions on fundamental matters and a spiritual leader of international reputation.
History is again repeating a similar incident of another Sai Baba with many parts in the person of President Muhammadu Buhari a Political Guru and honest leader which the citizenry can bank on for economic and national rebirth. Politics is a serious business for serious people with visionary leaders of impeccable character, zealously driven beyond immediate gains and who are ready to pay the prize for the development of the nation. It is crucial to note that Atiku's privatisation of our national assets in 1999 is an irony to economic and national rebirth.
The recent outburst of Dr. Oby Ezekwesili that Atiku was consistently opposed to the establishment of Due Process Unit when he was Vice President of Nigeria must be taken seriously into consideration to avoid recurring mistakes of the pass, particularly by those we look up to for leadership. Recently, it is a national discuss that Atiku is also planning to privatize the NNPC.
The statement credited to Alhaji Atiku shows that he can not be trusted to preside in national interest , of cause, it is no secret that the Office of the President of Nigeria is solely a fiduciary position, that is to say "a position of trust."
Furthermore, the statements credited to former president, Chief Olusesgun Obasanjo about the person of his former vice president is a capital NO to an Atiku's presidential ambition or vying for any public office. What could baba Obasanjo mean by "God will not forgive me if I support Atiku". Indeed, it is doctrinal and morally right for Baba Obasanjo to have forgiven Atiku, but it amount to an embarrassment on the sensibility of the Nigerian People for endorsing Atiku to take a shoot at the Presidency.
No doubt, the former president is a leader who knows his onions and stand tall in revolutionary times. However leaders are not always right in the decisions they take sometimes, hence I have had cause to disagree with proven leaders like Baba, Dr. Olusegun Obasanjo in a research paper, Domesticating Our Supply Chain. Contrary to his suggestion for Governments not to borrow in stimulating the economy when Nigeria was in a recession.
The likes of Dr. AKinwumi and the former Minister of Finance who also suggested on the need to drive the economy out of recession on capital cash flow generated from tax. An aspect in the research paper on Tax Policies in Developing Countries negate the suggestions not to borrow and the emphasis was on aggressive Taxation.
A critical consideration on indigenous manufacturing necessitated the adoption of tax holiday policy as measures to improve and enhance Nigeria Domestic Products. Don't forget that some big players in the economy have relocate to neighboring countries due to prevailing challenges in Nigeria business climate.
The prospect Nigerians stand to benefits in supporting the reelection of Mr President is high. Although it may be a very difficult task for doubting Thomases and those who have refused to put national interest above partisan politics to differentiate the Men from the Boys, honest and impeccable leaders with characters. Men have over the years built characters of which they are known for and it is on this basis that Nigerians will decide in Febuary 16, 2019 polls. Sentiment apart, we have to support President Muhammadu Buhari to make Nigeria attain an enviable height in the Comity of Nations and for generations unborn. As the saying goes, by their fruits we shall know them, the character of the former Vice President who promised nigerians a single tenure, his development plan has exceeded a term. Nigerians are now wiser, they know the honest candidate to occupy the nation's highest office. Nigerians must not be cowd or deceives by those impressive promises because all that glitters are not gold.
This deception intend to deceive and take us back to those dark days were our common wealth will be share among themselves which would cause more damage by widing the gap between the rich and the poor. In Nigeria there is no middle class, it is either you are rich or poor.
Compatriots, it is time to arise and take our destiny in our hands by voting the APC Government to finish the work they have started. Change and national building is a process. I thank you for the understanding. God bless Nigeria.
Sincerely yours,
THE NALAZAI POLITICAL HUB