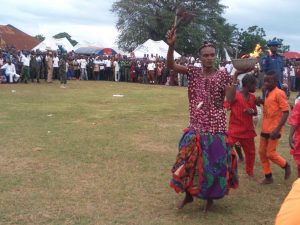 The ambience in Oyo on Saturday was cool and friendly with a moderate weather, even at a point  the cloud was loaded and almost pouring it's rain of blessings but  spirit of Sango which was believed to be alive at event took charge it ended as a worthy adventurous  with dazzling and scintillating  experience that will never be forgotten in a jiffy.
In Yorùbá religion, Sàngó is one of the most popular "Orisha". He was a strong ruler one of  king of the Oyo Kingdom. His symbol is a double-headed axe, which represents swift and balanced justice. He is the owner of Bata ( double-headed drums)
Guests, tourist's devotee and people with other missions in Oyo during the 2017 edition of Sango festival were thrilled with stunning performances and display by different traditional dancers who make the event held and the Oyo palace arcade more adventurous and exciting.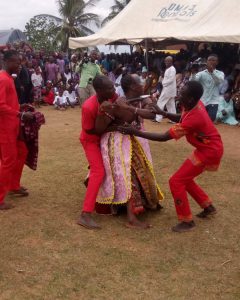 Many Sango devotee and culturally inclined people from Brazil, Spain, Netherland, Japan, Syria, Egypt as and other part of the world who graced the event were not only happy to witness the epoch making festival but were excited to reconnect back to their roots and the spirits and at the same time have a direct experience of how festivals are being organized in Africa where the deities emanated from.
Apart from the traditional attires which majority of them adorned, some of them also dances and mime the chanting and panegyrics of Sango whenever it is been done during the event and those who could not do that were busy streaming the event live on social media to larger audience in their domain.
Fernando Ferraz, a sango devotee from Brazil in a chat with National Insight said, ' we have been here in the past two weeks we started the festival together and it's an exciting moments me and people in my group came here with an expectation but what we saw here is beyond what we hope to see".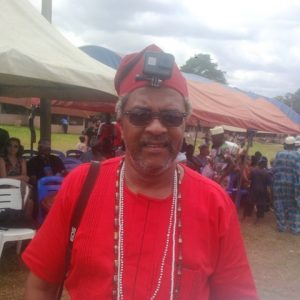 " I am a Sango devotee and I love sango,and in Bahia and some places in Brazil we do worship different kind of deities, so we are here to join our people here to celebrates our cultural heritage and tradition, besides, we have also been able to reconnect to the spirit of Sango, and learn more about African tradition which we practice over there"
Another local devotee   Sangodiran Ibuowo  in a chat with our reporter said " Sango festival is a festival to appease to Sango productive year and great harvest, it is also a festival of prayer, where we do iwure ( prayers) for people  at the helms of affiras, those seeking for things and others, that is how we have been doing it and nothing has changed, the modernization  is an added advantage  as it attract more people and make the event more glamorous '.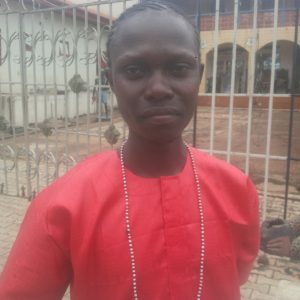 The chief custodian of Yoruba culture and tradition, Alaafin of Oyo, Oba Lamidi Olayiwola Adeyemi in his brief speech, explains the essence of celebrating Sango festival and it's benefits on mankind. " Sango is a pride of  Yoruba tribe and Yoruba in general, his exploit while alive is monumental and unprecedented, research shown that Sango is the first and only black man who spew fire from his mouth and other part of him without matches. They call him a great physicist"
Oba Adeyemi further extol the virtues of Sango describing him "as a great benevolence of mankind and an unbiased judge, all these and many great exploit of him gave us the confidence that he is one of the ancestors that deserved to be appreciated and appeased to and celebrating him in order to remind ourselves of the need to emulate his good deeds so that we can live in a just and fair society that is devoid of crisis and manipulations.
Earlier in his opening remark,Otunba Gani Adams, the National Cordinator of Oodua Peoples Congress OPC said Organizing festivals is beyond cultural promotion, it has an economic benefits for the people. According to him "spending of  guests, tourists and other people who came outside Oyo will no doubt contribute to the economic growth of Oyo and its environs".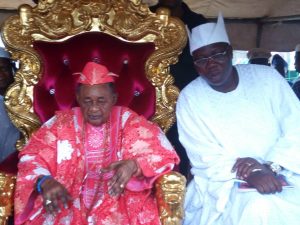 The Chief promoter of Olokun Festival foundation, an organization that is championing the promotion of cultural festival in Nigeria further harps on the needs for traditional rulers and other stakeholders to ensure promotion of cultural heritage in their domain, " it has become imperative on all of us to showcase and promote our cultural heritage,  this will further boost our credibility as a tribe and promote our identity as a nation."
Otunba Adams who was accompanied to the events by Olokun Festival Cultural Ambassador and theatre icon Ambassador Yomi Fash Lanso,   Otunba Femi Davies and hundreds of leader and members of OPC commended Alaafin of Oyo for his steadfastness in promotion of cultural heritage of yorubaland and urge other traditional rulers to emulate him for speedy and better progress of Yoruba race."
He also reiterates the commitment of Olokun Festival foundations, OPC and OPU to the promotion of culture and tradition of Yorubaland
Mrs Juliana Oladejo, General manager NTA  Oyo  who represented the minister of Information and Culture   Professor Lai Muhammed in her speech congratulated Alaafin and Oyo people for the annual event and call for continuous promotion of cultural events and heritage  by the stakeholders and custodians of cultures and tradition .
Hon Akeem Adeyemi, a member of the National Assembly representing  Oyo federal constituency  in a short remark said the National Assembly is collaborating with the executive arm of governments in its bid to diversify economy and one of the way to diversify into is culture and tourism " Our culture and tradition with tourism potentials are great source of income if they are properly tapped into and I am sure with time we shall get there, we have started  and gradually we will get into a stage where millions of Dollars will be generated through cultural promotion and tourism".
While speaking about Sango Festival, the Oyo prince said  ' Sango festival is a unique festival  because the history of Yoruba is not complete without Sango and the role he played, the festival has been on for decades and it will continue to improve, as you can see, there is improvement this year compare to what we obtains last year and I am sure next year will be better that this ".
The event which was packaged by Mrs Paula Gomez cultural Ambassador to Alaafin of Oyo  features, paying of homage by traditional  and titled chiefs, and other groups to Alaafin, oriki  of Alaafin by Olori, traditional display by Danforuja masquerade,  Sango from Ede, Saki, Ogbomoso,  and Oyo as well as gelede dancers from Oke Ogun.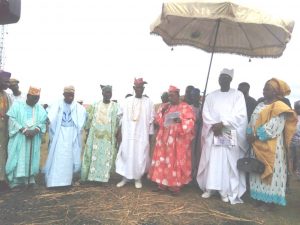 Traditional rulers from other part of Oyo state, and representatives of Oyo state government were among the dignitaries that graced the event