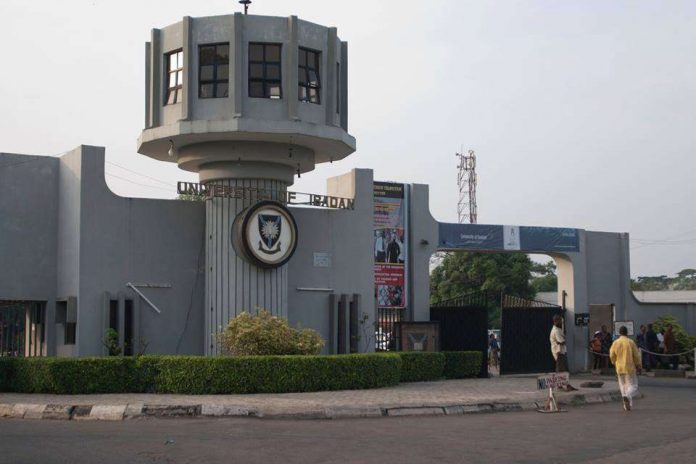 The aim and end of education is to instil in the individual those states of collective thinking and canons of morals…these are religious beliefs, moral beliefs and practices, national and occupational traditions and collective opinions of every kind. Their totality forms the social being.
To constitute this being in each of us is the end of education (French sociologist, Emile Durkheim) University of Ibadan, the fountainhead of true learning, deep and sound knowledge birthed in Nigeria on 18 January 1948 when the first set of students, 104 of them, received lectures at the University College Ibadan, at the Eleyele Temporary Site, previously used by the Military during the Second World War.
While the pioneer Faculties were Arts, Science and Medicine, UI first sod was turned on 17 November 1948 by Sir Arthur Creech Jones, then Secretary of State for the Colonies and that day has become the Founders' Day. UI's development trajectories and the challenges that it confront are both functions of colonial tutorship and post-colonial power-play and mal-administration of Nigerian leaders which brought in lack of sustenance of inherited cultures of quality staff recruitment and inability to attract foreign scholars and ensure conducive studying and teaching environments.
Today UI needs: special intervention fund to upgrade facilities (laboratories, campus utilities) and conduct cutting edge researches to drive development; recruitment of more academic staff to be able to increase access to average of about 50,000 candidates who apply yearly out of which only 3,800 got admitted in 2018.
In congratulating greatest UITES at home and in the Diaspora, it is important to burrow into the glorious beginning, the years of dislocation and dispersals and the resurgence of UI back to reckoning as a knowledge hub. Between 1945 and 1962, UK had thought the declonisation movement in Africa would benefit more with education as driver of political and economic affairs.
It set up Asquith and Elliot Commissions which provided templates for higher education and upgrading of existing post-secondary institutions in the British Empire. As a result of this, Yaba Higher College which had been in existence since 1934 training indigenous workforce was upgraded and relocated to Ibadan city which became Nigeria's first University College.
At the beginning, UI quality was ensured through alliance with institutions in the colonial homeland of Britain. This period provided the University College, Ibadan with managerial and curricular alliance in consonance with academic tradition, quality and character comparable with what obtained in Britain.
The foundation was solidly laid with many UK lecturers and professors teaching at Ibadan, while the UK regulated the curricula. Her reputation rose in the British Commonwealth through competitive but quality admissions procedures. At this period, Nigerian staff constituted about 10 per cent with relatively small students in the existence of quality facilities.
This foundation built the academic standard culture which Ibadan is today being celebrated for. The return of Ibadan-London graduates powered the staff strength. Ibadan became globally recognised for her contributions in African literature and History and forced the world-those yearning for soothing spring of knowledge to come to Ibadan.
Literary pioneers were Late Chinua Achebe, Nobel Laureate Wole Soyinka, John Pepper Clark, and Chukwuma Ike. In History were Kenneth Onwuka Dike (who later became the first Nigerian Vice-Chancellor of the Premier university), and J.F Ade Ajayi, Akin Mabogunje in Geography, Ayo Bamgbose in Linguistics and C. Agodi Onwumechili in physics.
The Ibadan school of history influenced the teaching of Nigerian History in secondary school as against the hitherto curricula which focussed on British History. This undoubtedly was the golden era for Ibadan. While elitist education was inherited from the colonial tutors, it fell short of social and economic transformation needs of independent Nigeria.
However, the political independence of Nigeria midwifed the lowering of standards through excessive interference and control from the central government. By 1959, the struggle for power at the centre introduced tribalism into the national discourse and this became a major factor in who gets what while east, west and north regions struggled to outwit one another. 1967-1999 were years of hurly-burly and instability.
The civil war period dealt a big blow on inherited cultures; as an offshoot, ethnic politics destroyed the gains of early years. UI was a victim of the civil war: majority of trained Igbo scholars and staff relocated to their homelands in the east; international scholars left due to heightened insecurity; importation of books became threatened; funding dwindled as the central government channelled money to finance the war; the Vice Chancellor resigned and the University was managed by the librarian as acting VC. The Yakubu Gowon regime saw the confrontation of the military authorities and universities. From the Zenith of quality and excellence, UI went into nadir between 1970 and 1979.
The aftermath of neo-liberal policies which fooled the central government to reduce tertiary education funding and the SAPera contributed to brain drain at Ibadan. University as 'geographic spread' rather than as centres of excellence was pursued long after the establishment of Universities of Ife, Nsukka and Zaria; and these reduced subventions to UI.
The establishment of newer universities also created competition conscripting UI to develop newer programmes to attract more students and consequently overstretching its resources. Military dictatorship eroded university autonomy as they got involved in the appointment of Vice Chancellors.
The supremacy of the Senate of UI also got toiled with by interference from Federal Ministry of Education as its being done till date. UI suffered more during the strikes of the 1970s which led to the sack of Marxist scholars who challenged military apologists in power. This censored radical scholarship while Ibadan influence declined as fountain head of sound knowledge and critical engagements.
The civilian administration has not been different with proliferation of varsities rather than expanding facilities in the existing ones. This has not only on the one hand depleted the manpower at UI but also stifles funding. Seven decades after, UI has 13 faculties, 30,000 regular students (undergraduate and postgraduate) and 10,000 in her leading Distance Learning Centre. However, to teach these students are about 1,500 lecturers since the federal government would not recruit.
Despite manpower shortage, it takes leadership in postgraduate training in Nigeria and Africa attracting over 200 international students. The facilities are over-stretched and the working and studying environment for staff and students is not yet fully world class.
But with a strong willed spirit of the 12th Vice Chancellor, Prof Idowu Olayinka, UI has agenda for the accelerated development through consolidation and innovation. Under him, UI reappeared on the global ranking among the first 1,000 varsities.
To improve its ranking globally and maintain its relevance in teaching, research and community service, President Muhammadu Buhari government and the National Assembly should allocate special funding to UI. Through this, infrastructure expansion and quality staff recruitment and training can be actualised. Despite the aggressive competition from late-arrival varsities, UI remains the first and the best in the country and a global brand providing soothing spring for all those thirsty for quality education and raising true minds for a noble cause.
●Dr Tade, a sociologist sent this piece via dotad2003@yahoo.com