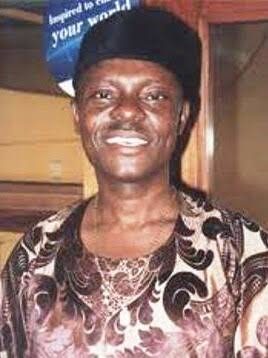 Dearest Abefe,
I know that you are dead!. I was told that you died under strange circumstances in 2003; a little above a year after you championed the cause of forming FIBAN, the association that I'm privileged to be superintending over today.
I don't know the actual day that you breathed your last but I was told that you were committed to Mother Earth on this day, April 30, 2003-exactly seventeen years ago.
When you were alive, from what I was told, you were the rallying point. Most people wanted to be around you. Wherever you went, crowd followed you. You cared for them. You impacted their lives. Helped many of them to realize their dreams. They "respected" you. Your words were law. You made money and spent a chunk of it on them. You were there for them when they needed you. You were tough and had a large heart. You were equally kindhearted and could sacrifice anything for anyone.
Abefe, you led your life like a prophet that you were. Your "ministrations " were deep and philosophical. Some saw your messages from a comical perspective. Less I forget, you were humorous. Others simply got entertained by the proficiency with which you dished out your creatively crafted jokes. Only very few digested your points, read in between the lines and understood your ministrations.
Your greatest investment was in people. Stories were told of how you were paid for services and on the spot, you spent and shared the money among those around. I was told that with you, there was no dull moment.
You stood for what you believed in especially your friends and all those that you came in contact with. You disliked injustice with passion and fought against it, whatever form it came. You fought great battles for the sake of others. When people had problems, you championed their course. You raised funds for people when the need arose. You promoted the career of countless number of entertainers and helped many businesses to succeed. In the broadcast industry, many of those "ruling" the airwaves especially in the Southwest (mainly in Yoruba presentation and programming) passed through you, either directly or indirectly. Indeed, you touched lives in the true sense of it. Today, to say that many of those people are successful will be an understatement.
It's been Seventeen years that you died. I know that today, as in the years past, you will be the center of discussion on many radio and television programs, perhaps not because you are genuinely missed but, in my view, because you are a very good "content " to be used to run their show.
Many will recall how good a man you were and the goods you did them. You will be eulogised. Your songs will be played and possibly, some of your jokes will be relayed. The studio line will be opened for contributions and many good things will be said of you and right there, it ends.
How many people now remember that you had children? How many of those people that mingled with you, know what has become of your children? In any case, your children: Segun, Folashade, Damilola, Ademola and Dipo are not doing badly.
When you were alive, you were greatly celebrated. In death, how many of people can honour you?. At the flimsiest of excuses, many of those who benefited from your benevolence and whose cause, FIBAN fought, have since abandoned the association. In their mind, you are dead and long gone. Your were a chapter in their past. They have become successful and have since moved on. So, the association, one of your major legacies has no meaning to them.
You will recall that I never came into contact with you while you lived. As a matter of fact, I joined FIBAN, after your demise but I was convinced that you should be immortalized. As the Chairman of the Ogun State Chapter of FIBAN, in 2011, I initiated Gbenga Adeboye Memorial Lecture. Those that came after me sustained it. This year but for the COVID-19 pandemic, it would have held and there I would have pronounced it a National affair.
However, I have directed the Chairman of our constitution review committee to ensure that it is entrenched in our constitution. Henceforth, April 30 shall become a National day in our association where activities will be organized in all our chapters to celebrate you.
As the National President, our administration has expanded the association to other parts of the country, making it a truly National association. We brokered relationship with sister organizations at the national level, admission into our college of Broadcasting, insha Allah, will begin immediately after the war against COVID-19 among other achievements.
Your "boy", Yemi Sonde who led FIBAN between 2014 and 2017 built a house for the association in Ibadan. It is the first physical structure in the history of the association. The completion of that building shall be our priority because among other reasons, that is where we plan to situate your Hall of Fame.
Your siblings, especially those that I know: our egbon, Femi; Seun, Mayowa as well as our egbon, Festus Oduola have remained committed to your ideals.
As we put all measures in place to ensure that you are duly immortalized, I want to assure you that in the days ahead, I will meet with them and your children to discuss other plans in this regard.
Abefe, in appraising your life and death, I learnt among other things, that goods should be done for the sake of God and not for the beneficiary because in one's absence, not many of the beneficiaries of ones kind gestures will remember them.
During the last national election, for reasons known to them, I was blackmailed. Lies were told of me. Terrible things were written about me. I was called unprintable names. I want to say categorically that none of those things can be substantiated. As a human being, I was embittered because election in FIBAN should be a family affair.
When I woke up this morning and meditated over the lessons of your life and time, I decided to let go and also hope that others who might feel aggrieved, for whatever reason, rightly or wrongly, will also look at your impact in their lives and honour you, even in death by giving peace a chance , for the good of your name and for the sake of posterity.
I do not know how best to communicate with you because I don't know if the dead can read. If they do, these are my thoughts and no harm is intended. I hope that you look back and see what has become of your good deeds.
I am also not certain about how to get it across to you, so I decided to write you an open letter with the belief that somehow, you will stumble on it and act accordingly.
In the meantime, sleep on jengbetiele
E-Signed:
Desmond Nwachukwu,
National President, FIBAN
April 30th, 2020.