Aliko Dangote Foundation, on Wednesday donated a total of 150 fully kitted operational vehicles to the Nigeria Police Force.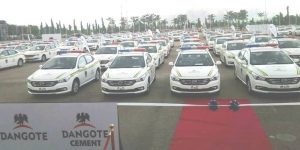 Chairman of Dangote Group, Alhaji Aliko Dangote, while handing over the vehicles explained that the gesture was informed by the fact that security is essential to economic development.
Dangote promised that his foundation might also consider donating another batch of vehicles if the ones donated yesterday are well maintained.
He said, "We are gathered here today to mark the formal handover of a total number of 150 GAC saloon cars to the Nigeria Police Force in order to help boost their operational efficiency. I am told that today marks the single biggest number of operational vehicles ever donated to the law enforcement agency by a private organisation.
"Considering the challenges government faces in meeting the entire needs of the populace for necessities like health, education and security, various Public Private Partnerships (PPP) initiatives have been developed. These are partnerships where the private sector collaborates with the public sector to provide services."
The Foundation, according to Dangote, which has been active in the four areas of Health, Education, Economic Empowerment and Disaster relief, has expended upwards of N10 billion annually.
In his remark, Vice President Yemi Oshinbajo lauded the Dangote Foundation for the rare gesture and expressed federal government's appreciation to Dangote for his untiring support to the government.
He noted that the donation of patrol cars to the Nigerian Police Force will help the Force in combating crimes across the country. Osinbajo who described Dangote as a rare entrepreneur who has done so much to grow the economy of Nigeria said government needs people like the business mogul to join hands with it to grow the economy and also provide jobs for the youth.
"The donation of 150 cars to the Nigerian Police Force is laudable and we thank Aliko Dangote Foundation for this rare gesture, that is characteristic of the person of Aliko Dangote.
He has shown over the years to be an entrepreneur with a difference, a man tha gives so much to the poor", the VP stated. Describing the donation as the single largest donation of cars by any private individual in the country, Osinbajo urged other Nigerians to join hands with the federal government to effectively secure the country as well as develop the economy.
The Inspector-General of Police, Ibrahim Kpotun-Idris, expressed appreciation of the Police Force to the Aliko Dangote Foundation, with a promise that the cars will be well utilised for the purpose for which they were donated. He urged Nigerians to go about their business lawfully, noting that the Police Force is now well equipped more than ever before to fight crime across the country.