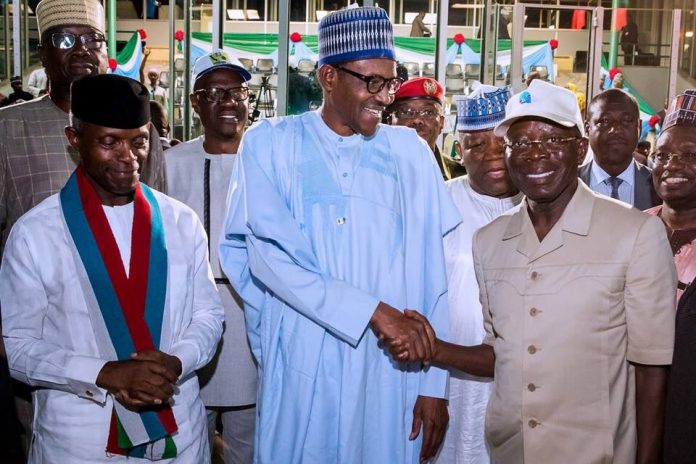 Acceptance  Speech by the New National Chairman of the All Progressives Congress (APC) Comrade Adams Aliyu Oshiomole at The National Convention on 24ty June 2018, At Eagle Square , Abuja
Protocols
I want to start by acknowledging and paying my respect to our founding and interim Chairman, Chief Bisi Akande, who, under extremely difficult circumstances and inspite of the determination of then ruling government to do everything possible to undermine the resolve of the four parties that merged to form the APC, he deployed all his skills and uncommon patience and succeeded in piloting the affairs of the Party up-to when we convened the first convention from which my brother and my elder Chief John Odigie-Oyegun was elected. I am very clear that it is the very solid foundation laid by our first interim chairman, Chief Bisi Akande was so solid that the first chair,and did not have to do fresh excavation. All he needed to do was to build on the foundation laid by Chief Bisi Akande. I think it is just fair that on this occasion, I place on record, my personal gratitude to him and I believe that it also covers the feelings of members of the party across the country.
I also want to acknowledge the role played by our National Leader, Asiwaju Bola Ahmed Tinubu who our President often refers to as his partner and dear friend. Mr. President, that historic partnership made a difference and it substantially explained the victory that Nigerians gave to us in 2015.
Allow me also to appreciate my predecessor, Chief John Odigie-Oyegun, my elder brother who is on record as the first national Chairman of a then opposition party that succeeded not only in leading his party to victory, but completed his tenure of office with honour and glory. Chief Oyegun, we need to congratulate you for all that you did to make a difference in the affairs of our Party. It is important that you realize that you made history because the other party, in 17 years had 14 National Chairmen which gives an average of about 1.3 years per tenure for a national Chairman. So, since 1999, no Chairman of a ruling party has accomplish what my elder brother has accomplished. Congratulations and we are proud that you led us well.
Mr. President, you have also made history and taught us valuable lessons. One of the lesson I learnt from you and which I believe most Nigerians have learnt from you is that those who seek to contribute to the affairs of their nation in a democracy must appreciate that this process is a not a 100 meters dash. Only people with capacity, energy and tenacity can go as far as you have gone. First attempt, you did not give up, second attempt, you didn't give up, third attempt, you were more determined and at the fourth attempt, you are here. I chose to recall this particular aspect of many of the legacies you are already bequeathing because this season.
The chairman of the Convention committee rolled out results and there were winners and a few losers. But truly, in a party such as ours, there can be no losers because whoever wins will serve all of us and as clearly stated in our oath of office and oath of allegiance, we have all committed ourselves to do justice to all manner of persons and above all, to work for the benefit of each and every party member. If we give positive effect to these commitments, those who contested and other members will benefit from the leadership that has just been elected. The second thing that the President has taught us is that when people are given responsibilities, they should be given the benefit of doubt to do the job to the best of their ability. Under your leadership, Mr. President, I have not heard anyone having to lament that they are stagnated in one way or the other because of pressure from above. Mr. President, you are an exemplary leader. You are already in history as the first non-millionaire retired officer investing only your integrity as your asset and defeating a party that emptied the national treasury in their quest to impose themselves on our nation.
I also want to pay compliment to those governors who participated in the merger process. This include the former Speaker of the House of Representatives, now Governor of Sokoto state, Rt. Hon. Aminu Waziri Tambuwal and Senator Bukola Saraki now Senate President, who led what was then known as nPDP to join the four and half parties to merge and form the APC. The foundation you laid by that historic decision has made it possible for us to become the ruling party today. Mr. President, with your permission, I will like to quote one of your most popular quotation that we have no other country than Nigeria. We must must stay here and salvage it together. I like to say to all our leaders that regardless of their legacy parties, we have come voluntarily to devolve those parties to form the APC. As things stand now, we have no other party other than the APC and we must all remain in it and rebuild it, reform it, strengthen it so that it can provide comfort to all of its members and leaders regardless of how and where or when they came in to join in our shared commitment to provide leadership for our great country.
I am aware there are challenges here and there. But I believe that the team that has just been elected, we have what it takes to address those challenges. The instruments required do not need to be rocket size, but basic commitment to the provisions of our constitution, commitment to internal democracy, mutual respect for each and everyone of us, purge ourselves of any arrogance and a commitment to honesty, listen, discuss, persuade and finding common ground so that in the end, we can have a win-win solution in any states we have challenges and even on issues affecting various arms of government elected on the platform of our party.
Let me conclude by saying that there are challenges, but we are ready. Mr. President, you have invested so much trust not only in my person, but in all of us that has just been elected. To all members of our party, our leaders and our governors, I assure you that working together, we will democratically resolve all those issues that appear to be intractable. I believe that with my own background, things will be resolved amicably because I am used to managing divergences and this is just another task. It will be done to the satisfaction of our President, governors, senators, representatives, House of Assembly members and all the rank and file members of our party. We will devote all our time to it because that is the oath of office that we have sworn to and we will administer the party on the basis of our constitution.
We will organise a summit to discuss issues, create platforms for popular participation so that we replace the current situation in which issues are not being discussed. The only issues discussed are ethnicity and religion. We must reinvent ideas and identify Progressive intellectuals to assist is in generating ideas on better policy options that should guide our party in our commitment to affect positively the Nigeria polity, economy and society.
We have the will and we are committed to do what we have to do to have political party that in the near future can be compared to African National Congress (ANC) and serve as a strong pillar, not only to the federal government, but to all the government elected on the platform and ensure that when elected, the party is not reduced to a mere election platform, but remain a platform to engage, interrogate and interface with all those elected on our party platform. That way, the contradictions that we see will be dealt with satisfactorily.
Working together, we will ensure that the management of the reward system reflect the amount of efforts that people puts into it. Once there is no relationship between efforts and reward, people are bound to grumble here and there. I believe we can make up for whatever complains people have. The important thing is that this is a process and I have fate that we can resolve all these things.
H.E. Comrade Adams Oshiomhole