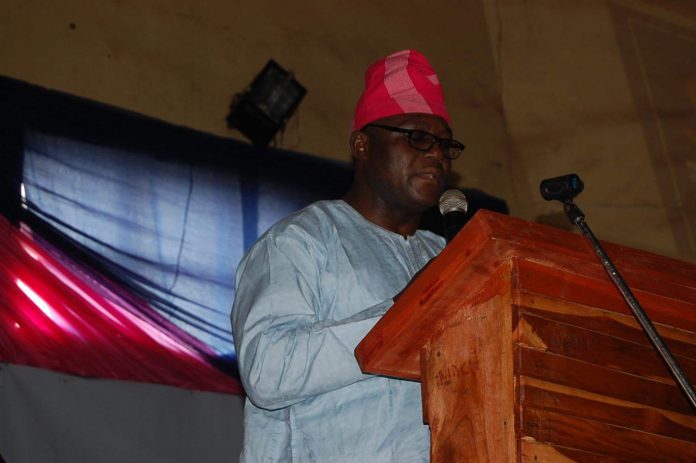 DREAMS DO COME TRUE
BY
ADEBAYO A. ADELEKE MBA, MNIM
BEING THE KEYNOTE ADDRESS DELIVERED AT OKE OGUN YOUTH SUMMIT HELD ON SATUDAY 15TH JULY 2017 AT THE TOWN HALL, ISEYIN, OYO STATE, NIGERIA.
INTRODUCTION
It is the goat that made his entry without greetings that is fastened to the stakes. I stand to salute all worthy sons and daughters of Oke-Ogun. I also salute the courage and tenacity of the organizers of this Youth Summit. In fact, I want to congratulate Mr. Bolatito Olalere and his team because today has proven that indeed dreams do come true.
We all need to appreciate the need for a platform like this Summit to address issues of unity of purpose and development of our God given talents and resources. As I congratulate you, I also congratulate myself. Though I am an Ibadan man, I am not complete without my wife, and my wife is from Oke-Ogun, Shaki to be precise. Some of my great friends like Abiodun Owonikoko SAN, Prof Gbemisola Adeoti and Professor Oyeniyi Okunoye (both of OAU Ile-Ife) are from Iseyin and Igboho in Oke-Ogun. I am therefore at home and feel much concerned about the need to dream big dreams and transform our community.
WHAT IS A DREAM?
The dream we are here to talk about is a special type of dream. It is not the one popularly defined as "a succession of images, ideas, emotions, and sensations that usually occur involuntarily in the mind during certain stages of sleep".
The dream we are gathered here to talk about is simply defined as "a cherished aspiration, ambition or ideal. A contemplation of the possibility of doing something or achieving a great and laudable vision, goal or target".
A dream therefore is a purposeful pursuit of a great and lofty vision. In fact, another name for this dream is vision.
WHO CAN DREAM THIS DREAM?
Dream is a personal thing. It takes only one person to ignite a series of processes that can lead to a phenomenal change and transformation. An individual can have a dream of himself becoming the biggest industrialist in Oke–Ogun, or the first Vice Chancellor from Oke-Ogun, or the best Neurosurgeon or pilot or aeronautic engineer from Oke-Ogun.
An individual can also dream or envision a great developmental future for a group, a community, a state, nation, continent or the entire world. Indeed the definition of greatness, genuine greatness, is the ability of any individual to dream and pursue the realization of a dream that advances, benefits or promotes the overall interest of his community. Such dreamers or visioners are Martin Luther King Jnr, Nelson Mandela and our own Obafemi Awolowo.
ALIGNMENT OF DREAMS
Since everyone can and is free to dream, please note that dreams are absolutely free- there are instances when an individual's dream may conflict with community dream. For example, it is the dream of Oke –Ogun community to produce the next Oyo State governor. This community's dream may produce seven or ten individual dreamers who want to be the governor from Oke-Ogun. Where individual dream may hinder or jeopardize community dream, it is better for individuals to align their dreams with that of community aspiration. Failure to align individual dreams to community dream would amount to giving both individuals' and community's dinner to the dogs. You may recall the bitter rivalry between Agbalajobi and Sarumi of SDP in early 90's that gave victory to a less known Otedola as the governor of Lagos State. A more recent example is that of Osun West Senatorial bye-election held last week. The failure of individuals to align their dreams with that of the group (i.e the APC party) gave the victory to PDP.
To the youth and elders of Oke Ogun, and to the political gladiators of Oke Ogun, failure to align personal dreams and ambitions to the overall interest of Oke-Ogun would spell disaster for both indviduals and the entire community.
THE FIELD OF DREAMS
The field of dream is very wide. It is as wide as the ocean. You can dream anything. And again, I say; dream is free. Therefore, if you must dream, dream big. If you must eat a frog, look for a robust one. Omotolani can dream that she becomes the next president of America. You cannot take her to court for her dream. You cannot prosecute a person because he or she dreamt. You can however be persecuted for your dream. And persecution comes from friends and enemies who do not believe in your dream. Or those who feel threatened by your dream. Or, those who feel they should have dreamt your dream. Or, those who, for whatever reason, don't just want your dream to come to pass. These are special people whose dream is to stop other people's dreams. And there are so many of them all around us. But we really need them. Yes, we need them to test or validate our sincere commitment to the dream and its realization. We must therefore dream and pursue our dream in spite of these people.
WHY DREAMS DON'T COME TRUE?
There are eight reasons here mentioned why dreams don't come true.
1. Paramnesia – The dreamer is too busy to reflect on the vision and soon forget about it.
2. Paralysis – The dreamer is overwhelmed by the largeness of the vision. He just could not move to actualize it. He is paralyzed.
3. Persecution – We have talked about this. This is the obstacles put on the way of the visioner by killers of dreams.
4. Procrastination – This is very common. You delay what should be done today till tomorrow or next week, or next month or next year and so on. You may end up frustrating your own vision. The vision of a Technical University for Oyo State was shared over five years ago. The site of the University has not even be cleared while other Universities dreamt of within the same time have graduated their students.
5. Powerlessness – This is the absence of skill, ability and resources to actualize the dream. This is a major setback for a lot of SME entrepreneurs today. There are challenges of money, men, materials and infrastructure for many youth to pull their dreams through.
6. Planlessness – A vision without a plan of achieving it is a mere wish. If you dreamt that you built a house, you better wake up and buy land and ask for price of cement and blocks. Nobody lives in a dream house. Let me share a story with you. Two young friends were once given a vision of their future by an Ifa Priest. Mr. A would become a king and Mr B would remain very poor. Mr A got excited and intoxicated as a future king. He shared his vision with everybody. He would be king. He never worked. He ate and drank and made merry. Mr B looked at himself and a lifetime of poverty. He remembered J.F Odunjo's poem: Ise loogun ise. He decided to battle poverty. He started farming and soon had the largest farm of yam enough to feed twenty communities. He grew up to be a very famous and prosperous yam farmer. Later in life, there was famine in the community and the king died. It was a unanimous decision of kingmakers to make the man who could feed the community ten times over the new king. Mr B became the king. Mr A who had a vision of a king but did nothing died a poor and wretched man.
7. Party – The Association that you keep may kill your dreams. Be very careful of the company (circle of friends) that you keep. If your friends and associates are visionless, you will soon go blind.
<
8. Phobia – This is fear of failure. A serious minded dreamer must learn to conquer the fear of failure. Your maxim should always be "nothing ventured, nothing gained".
What is your dream?
I will challenge us to look around us and bring out dreams. Where is an economically viable golf course in Oke-Ogun? Where is the 5-Star Hotel in Oke-Ogun? Where is the private sector led Oil Palm Refinery in Oke-Ogun? Where is Oke-Ogun ranch? Fulanis are all over Oke-Ogun rearing cattle. Your land is best for grazing cattle. But you don't own the cattle. Dangote announced this week that he would soon have 50,000 cows producing 500 million litres of milk by 2019. That's about N200billion conservatively. And our youth still say there is no job. Where is Igbeti Marble Works? Why is Igbeti rich in marble and her people (of about 120,000) are very poor? Ogun state has less land mass than Oke Ogun, Ogun State houses over 15 Universities. How many universities are there in Oke Ogun? How many hospitals? How many research institutes? What and what have been the developmental benefits of Oke-Ogun as a result of political participation and representation over the years?
It is an honest attempt to view the opportunities and overcome limitations that would give rise to dreams. It is a challenge of the status quo that would give rise to dreams. It is the devotion and unrelenting pursuit of such dreams that would bring the dreams to pass. It is cooperation and not competition that would bring the dream to pass. It is the youth that has correct moral values of honesty, trust, integrity, hardwork and steadfastness that will make the dream come true. It is not the youth that celebrates thieves, rogues, imbeciles, cheats, fraudsters and mediocres that will dream talk less of the dream coming true. It is not the youth who look at itself as receivers of handouts and not people of great destinies and proud ambassadors of Oke-Ogun.
Let the dream come true
My appeal to the youth and great people of Oke-Ogun is to pursue lofty dreams. Bring out the best in Oke-Ogun. Celebrate the best in Oke-Ogun. Exploit all natural resources. Your Shea Butter is the best. Your Aso Oke is the best. Your Beads are the best. Your "Ikoko Irin" are the best. These and more are serious foreign exchange earners.
Organize more events that would bring people to Oke-Ogun. When they come, they will bring money to Oke-Ogun. They would buy your food and goods. They will sleep in your hotels. Your economy will grow.
Three months ago, I visited Okere Dam near Iseyin in the company of Bolatito Olalere and his friend. That dam has potentials of making more than 100 people here millionaires. How many people here have been there? Are we aware of sources of wealth in our own environment?
Conclusion
In conclusion, Oke-Ogun youth must rise up to sustain Oke-Ogun as the food basket of South-West. That is a market of over 60 million people with an earning capacity of about N7.88 trillion per year, Oke-Ogun should mechanize traditional industries that produce shea butter, Aso Oke, beads, palm-oil, black soap, alloy pots etc. Let us produce and pursue thousands of dreams till they come true. And if you cannot dream, buy into someone's dream. Follow those who know the road. Your concern must be: is this dream good for the generality of our people? Will it promote peace, harmony and progress? Will history view us as heroes or villains?
To the organisers of this forum, use this forum to have a plan of action on a medium term development agenda for Oke-Ogun. You may also consider a support system or framework for helping the youth to actualize their dreams (i.e. mentoring, finance, infrastructure and networking).
I await your invitation to come and celebrate you because I am confident that your dream will come true.
Thank you.