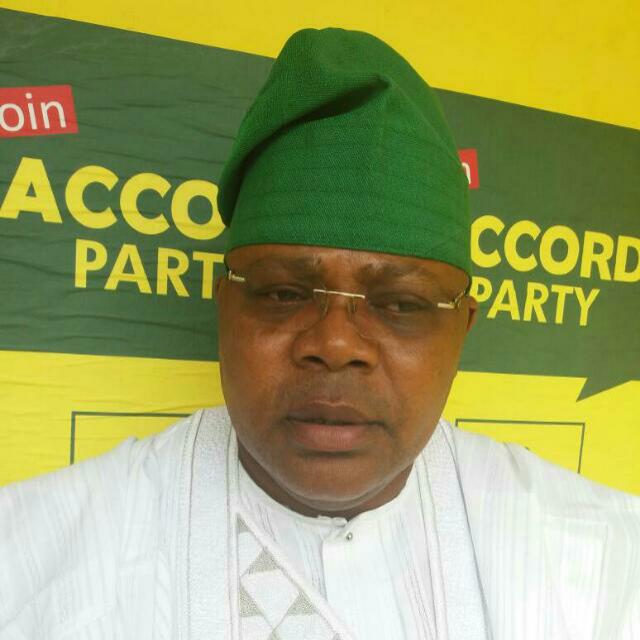 The leader and governorship aspirant of the Accord Party in Ekiti State, Akogun Banji Ojo has further reiterated his commitment to better the lives of the over 2.3 million population of Ekiti people.
Akogun Banji Ojo who is popularly known as 'ABO' is a Europe trained journalist who gained popularity in the Nigeria political terrain, particularly in Ekiti state in 2013 when he empowered over 4000 aged citizens of the state with cash and other valuable items under his 'ABO Foundation'; a scheme centered at alleviating poverty amongst the state's indigenes.
Investigations also revealed that Akogun, before joining politics had sometimes in 2010, assisted a reasonable number of youths across the North Senatorial district of Ekiti State to secure travel Visas to Europe in order to acquire various vocational skills.
A gesture which many described as his (Akogun Banji Ojo) major breakthrough to political limelight.
Akogun Banji Ojo expressed bitterness over what he described as Modern Slavery under the Fayose-led administration in Ekiti.
"My heart bleeds to ever think that my state, fountain of knowledge, have been reduced to nothing. Fayose has defaced Ekiti people.
" How can a governor who is owing several months in arrears of salaries and pensions take to the streets and be sharing Christmas Clothes for children whose parents are victims of non payment of salaries.
This is totally unacceptable and we at Accord Party in Ekiti State will stop at nothing to bring our people out of this modern slavery brought about Fayose's deceit and maladministration." He said.
Akogun disclosed this in Ayede on Wednesday during a Town-Hall meeting with party executives in the area.
Earlier in his welcome address, Accord Party Chairman in Oye Local Government Area, Hon. Seyi Akerele appreciated the uncommon stride in Akogun's leadership style, saying the rebirth of the party at this critical time, especially in the Southwest and Ekiti state in particular was the best for democracy in Nigeria. He however called on the people of the state to support Accord party and Akogun in his bid to return leadership to the people.