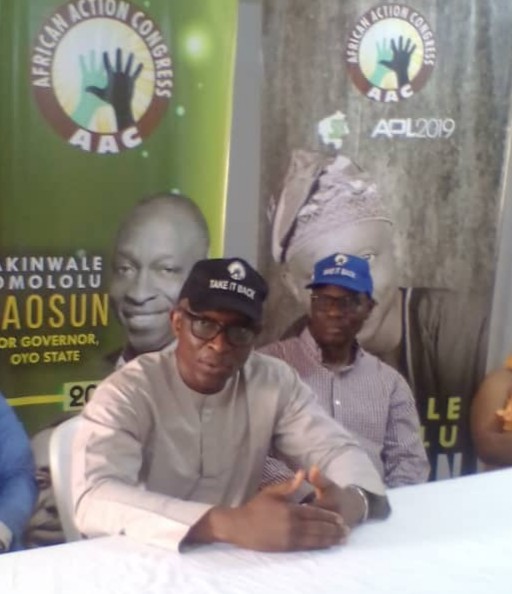 The African Action Congress( AAC) on Thursday said there's hope for Nigeria on a condition to elect visionary and creative leaders who are ready to tackle issues in an unusual manner.
The AAC gubernatorial candidate in Oyo state, Mr Akinwale Laosun who disclosed this on Thursday in Ibadan, said, with this in mind, the party candidates to be led by Mr Omoyele Sowore at the national level are capable of moving the nation to its promise land.
The governorship candidate who spoke on the election postponement by the Independent National Electoral Commission ( INEC) mentioned that one of the major problems affecting the country is poor educational system which has regressed in the last 30 years , this he said, makes carrying out simple process to become a difficult task.
Speaking on why he wants to become the Governor of Oyo state, Loasun said " after observing that nothing has changed and things are not progressing since the last 5 years in Oyo, I came up and took the ground to run the Guber race in order to restore Oyo state back to its former glory".
The Guber aspirant while uncovering his plans for the state said, education will be given top priority, promising that quality free education from primary to secondary level and affordable tertiary education would be provided.
On his plans to improve teachers quality of working life, Loasun said that his administration will organize quality trainings for teaches, noting that incentive would be given to teachers sent to rural areas.
" Education, health, agriculture, business are part of my agenda , we will accord education it's due priority, provides facility for students to learn, pay off all arriers within six months we assume office, give incentive to teachers and other sector posted to the rural areas".
The AAC gubernatorial candidate urged Nigerians not to compromise their citizenship, saying that people should come out enmass to vote for the right candidate to move the nation forward.