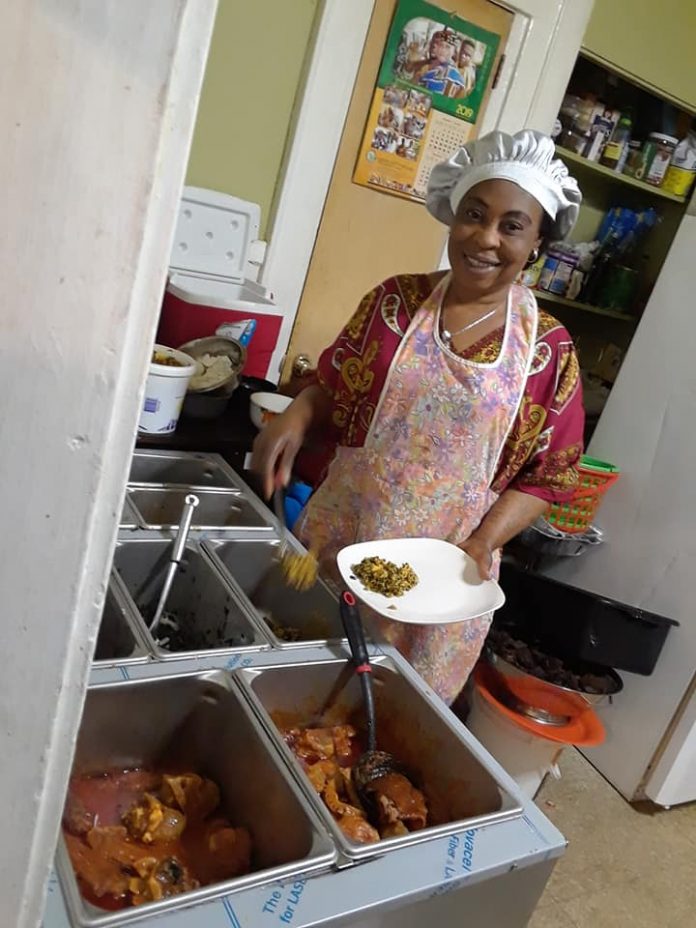 •Why I pound yam at Mama Afrika Restaurant —Dupe  Ogundare
 By Wale Alarinka
As a new corner in New Jersey with a base in Newark and having been treated to various foods at Popeyes,  MacDonald, Wendy's  and the Chinese, the tactile organ pressurised one for a taste of pure African meal  with good African chilli in the the white man's land where cold seemed to have given one away as a Jonny Just Come .
The hotel's meals, though of buffet continental breakfast, is of no different from those ones got from the fast food dispensing shops.
So where is the place in Newark, where one can eat a truly homely meal?
A few calls made to some Nigerians made options so easy "You have this and that and this, but as you are an Ekiti man, your best bet is Iya Ekiti at Ellis Junction, Irvington. Just find your way to Ellis Avenue Junction, Irvington, Newark, the woman is the only one that pound yam, as in pounding yam in a real sense."
Without wasting more time, I trekked to the taxi park, engaged the cabman who happened to be from Haiti. "I know the place. Mama Afrika Restaurant. You are from where in Africa"
"From Nigeria, "I announced proudly.
"That woman knows how to cook African fooda. I am her regular customer and I do convey many whites, you know those whites that marry blacks there. Sure Restaurant."
Nothing gave out the house as a restaurant, except for the cars parked beside and in the front of the it and the many winter coats hung at the hanger as one entered the flat
Whatever one missed outside was available inside the flat — a crowd of people eating, discussing  Nigeria politics over bottles of beer and food while a group, including a lawyer, with  bottles of exotic wines, brandy and whisky on their table was deep in a  discussion.
As the centre bar filled up, I secured a place at the inner room, where very few customers were discussing on how best they could breakthrough in their cabbie business
I made an order of pounded yam. I emphasised that I needed pounded yam not poundo yam, (remember I have been told, which I don't even believe) .
The lady, Tomi, nodded.
I re-affirmed: "Pounded yam please, (making a gesture of a pounding act)."
She confidently said 'Yes'
Being unable to buy a bottle of my stuff, I ordered for three pints of Double Black on Ice.
And within 15 minutes, a bowl of pounded yam was placed before me with a chilled bottle of coke.
Sincerely, the yam was pounded. Yes, pounded. I could feel the texture, the freshness and the steam
Iyan Ololo in Newark! I smiled.
And the stage shifted to the who prepared it.
"Ma, I am surprised that I am eating real pounded yam here, right in the US. I thought you were going to serve me pounded yam or machine tilled   pounded yam."
"Not at all. Since you demanded pounded yam, the one pounded in the mortar and beaten with pestle, it is our speciality here,  although, we serve poundo yam too. It depends on your order," said the woman, later identifies as Mrs Dupe Ogundare.
Why do you think it is necessary to carry mortar and pestle all the way from Nigeria to Newark, just because you want to sell pounded yam when there are machines and poundo yam?" I ask.
Ogundare replies: I think what is worth doing at all is what doing well. Pestle and mortar is the traditional instrument meant to pound yam. That is why I am a traditional cook and restaurateur having sold food in Ibadan and served at The Polytechnic, Ibadan Guest House.  You know there are some people whose preference is yam pounded with a mortar. The only instrument I know which is for pounded yam is pestle and mortal. So, it is a  normal thing for me to carry it to wherever I am practising  this trade. Look, my brother, any Nigerian restaurant without pestle and mortar is not a Nigerian restaurant. Do you know that no matter how small the mortar is, our Igbo brother will have to talk of me. A typical Ekiti woman born into the art of cooking good food? And you know, in Ekiti land, pounded yam is the king of all food and it is mixed and  pounded in a mortar with a pestle."
What value has the pounding added to your outfit
Look, you are one of the values which our act of pounding yam has deserved has added to this place. You came here purposely because of the information that you can get the real pounded yam here. That is why you boarded a taxi to feel it yourself and thankGod, you saw it, felt and tasted it. What more value can I use to indicate this. Also, it is not the same as poundo yam. And I am informing you that that has been the niche for this restaurant, Mama Afrika Restaurant or Mama Iyan Ekiti."
AIso the pounded yam served with only vegetable soup?
Please follow me and let me show you some of the varieties of stews and soups we have here (we leave for the kitchen). We serve with various types of soup as you can see egusi, ogbono, vegetable, okro, edikaikon, fisherman soup, Ofe Owerri, ila lasepo,  ewedu and gbegiri, just to show you  that here you will have the best.
Which one is your trade name Mama Afrika of Iya Ekiti pounded yam?
Both. The fact is that Mama Afrika is the name registered with the State of New Jersey but my customers call it Iya Ekiti Pounded Yam Centre just because of the pounded yam.
Is this restaurant all about pounded yam?
Mrs Ogundare: You are just asking that question for asking sake. You see that man eating amala with abula, look at the man beside us, eating eba and the other person here having rice and dodo. We cook for parties and events. We are the major cook for most of the leading African churches here for any event. The fact is that, people believe that for you to have that traditional food cooked with the best of traditional ingredients and seasoning like iru and efinrin, Mama Afrika, opposite Ellis Avenue Junction, Irvington, Newark is the best. And It is, or is it not?
And  I concur. "It is ma, Mama Afrika Restaurant, Irvington New York, Is It. I testify.