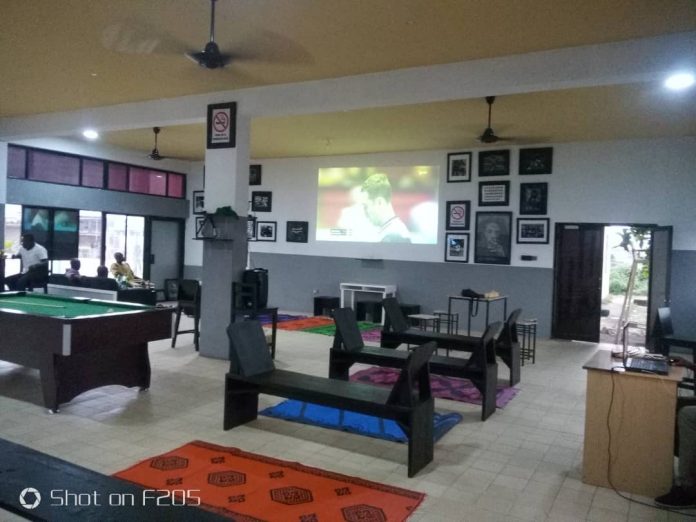 The Lekan Salami Stadium Ibadan has hosted Sportz Café, a place where
professionals can connect in a highly serene atmosphere to rub minds
and adopt one sport or the other for leisure and health benefits.
An architect, Atilade Adeleke own and conceptualized the Sportzhub
Café with contributions from the Commissioner for Youths and Sports
Barr. Yomi Oke and the general manager of the Oyo State Sports Council, Gboyega Makinde.
Adeleke a tennis enthusiast explained that the idea is to create within the stadium where professional can relax with their family and engage in some indoor-sports as against the negative notions people
have about our stadia premises, noted as beer drinking spot full of miscreants.
His words: The essence of this sportzhub is where professional can connect, hangout, rub minds and pick one or two sports for health benefits. We don't want miscreant to hijack the idea and that was why we created a structure like this so when they see it they know they
can't fit in because it is either you're a member or not so that's a deterrent to checkmate unwanted elements around here.
"I grew up I stadium environment, particularly Liberty Stadium as my
mother was a staff of National Sports Commission (NSC), during the
holidays the young ones comes around to study in quiet places and you
dare not walk on the lawn, and hardly see miscreants around stadium
then.
"When I back into the country and recently entered the stadium and see
what the former beautiful place as become, I felt very sad, in fact
its situation would make one to feel very bad. I remember when I was
in Fullam stadium in UK and I was just looking at a miniature Liberty
stadium.
"I learnt how to place tennis here at Lekan Salami Stadium and each time we finish playing, we go under the tree to relax and you see people of funny character mingling with us, a situation that you do
not see in stadium environment before.
"Stadium is not only for sporting activities but compete leisure and grassroots development and youth empowerments. When you engage youths through sports, you have taking crime off them, which is also part of what we are trying to do be establishing a tennis academy for less
privileges, Adeleke enthused.