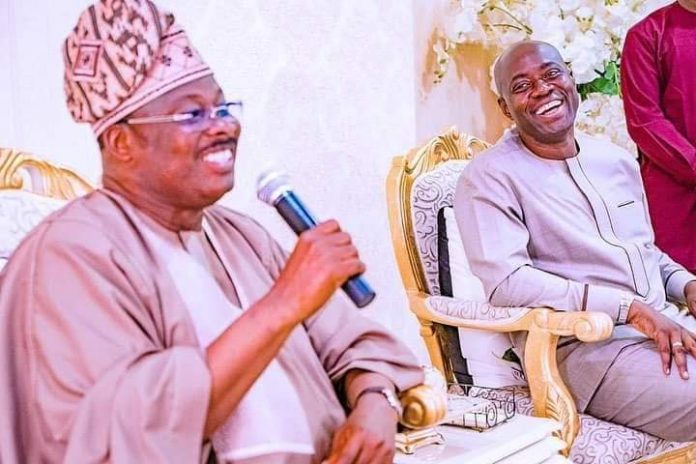 Thursday, March 14, exactly five days after winning the state gubernatorial election, makinde sauntered into the beautiful ambience of the official residence of the governor of Oyo state at Agodi.
Donning a fitting dull grey, sparsely embroidered casual and brown loafers, he was met by governor Abiola Ajimobi resplendent in a light brown complete agbada and what a perfect host he was.
Camaraderie was in the air with the two men beaming from ear to ear, dowsing the obvious tension of the recent election that saw the governor's political ego severely bruised
In the main, it was an avuncular banter between two men whose personalities will occupy ample pages in the annals of Oyo state.  One, for what he had done in the last eight years and the other for what he is about to do in the next four years.
I was in the entourage of the in-coming Governor not only as a matter of duty but also to enjoy myself as i watch history being made with my professional antennae on full alert.
It was a momentous occasion because it was the first time that a democratically elected in-coming governor will pay a courtesy call on another democratically elected out-going Governor. Since 1959, when Obafemi Awolowo handed over the baton of western region to Ladoke Akintola.
Dr Omololu Olunloyo took over from uncle Bola Ige acrimoniously in 1983 and any thought of a courtesy visit was forlorn of course, Chief Kolapo Isola's reign was cut short in the milieu of the June 12 conundrum while in 2003, Alhaji Lam Adesina and his successor, high Chief Rashidi Ladoja never exchanged such diplomatise.
By 2007 when Ladoja lost the election to his erstwhile deputy, Otunba Bayo Alao Akala, the heatwave between them was volcanic and could bake a loaf of bread to say the least so, a courtesy call by akala was a literal death wish.
When Ajimobi defeated akala in the governorship election in 2011, he wrote to all the banks doing business with the government and asked them to stop all forms of transactions willy nilly even before he was sworn- in and in equal measure stopped the last salaries of all political office holders the moment he assumed office. Given that inclement scenario, a hand shake was not remotely considered.
But here was Seyi Makinde seeking audience withAjimobi and dismantling in one fell sweep, a forgettable stereotype.
In the government house at Agodi in Ibadan, the terraces, the well-cut lawns, the marbled floors and the chandeliers were opulent and gubernatorial. But as i watched the governor-elect taking in the fawning's of governor Ajimobi, i asked myself, is this all Seyi Makinde wanted, leaving his comfort zone and deploying stupendous wealth and time only to live like a king which he already is?
Was this what was on his mind when he philosophically told the owner of a private radio station when he was barred from a programme the other day ''you can bar me from your radio station, but you cannot debar me from the government house''
heck no! I see Seyi Makinde in the trenches for the next four years battling hard to better the lot of the people and doing it differently.  It is going to be tough, but then, one of his favourite quotes must come in handy here. ''when the going is tough, the tough gets going.''
To be sure, Seyi Makinde traversed the nooks and crannies of Oyo state without ceasing and probably had the most strategic interactions with the high and the low from the hilly topography of Ibarapa, the rich plains of Oke Ogun, the nomadic valour ofOgbomosoland and the rallying enterprise of Ibadanland.
Doggedly, he kept selling his mission even while his main rival was still contemplating between resigning or taking a leave of absence from his plum job.
His public awareness machinery was second to none not only because he started his campaign a full year before even winning his party primaries, but also because the execution ensured that his name was heard on at least 10 radio stations, many times everyday between January last year and march 7, this year when campaign ended such that the masses were stuck with his good name as the only alternative.
I was in charge of the media during Alh Lam Adesina's successful campaign 1998\99 and AlaoAkala 2006/7 and none of them was anywhere near the professional blitzkrieg that Makinde brought to town and it paid off bountifully.
The 515, 621 votes polled by the governor-elect was the highest garnered by any gubernatorial candidate in Oyo state since 1999, safe 2003, when Ladoja polled 636,730 votes to defeat Lam Adesina.
While Akala defeated Ajimobi by a superior vote of 118,000 in 2007 and Ajimobi returned the favour with a superior vote of only 33,000 votes in 2011 and went on to defeat Ladoja with 73,000 in 2015, Seyi makinde defeated Bayo Adelabu with a whopping record vote difference of 158,000. A veritable landslide by all account
Another uniqueness of Makinde's victory is the high hope that defined his emergence and if anyone can do it, this man who remained committed and convinced of winning the election in spite of all odds, is poised for a successful spell starting from the next few weeks.
Oyelade, who managed former governors Lamidi Adesina and Adebayo Alao-Akala's images, is now spokesperson of Engr Seyi Makinde, governor-elect of Oyo State