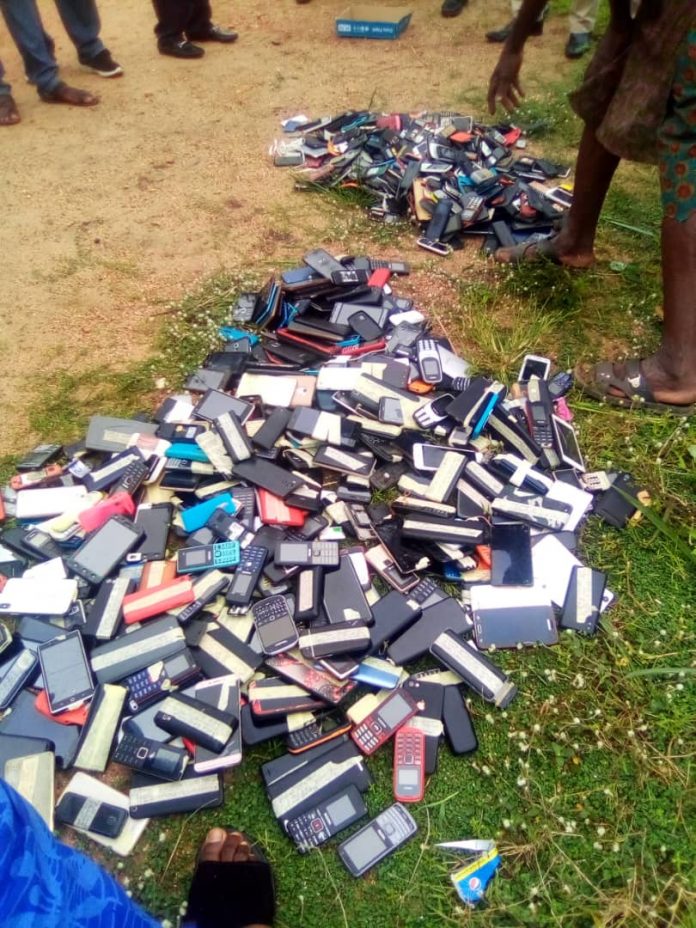 — school explain reason for the action.
Kehinde Ayanboade,
The National Alumni of The Polytechnic, Ibadan has on Friday revealed its commendation for burning mobile phones worth 15Million seized during the examination malpractices in the "Citadel of Learning".
The Alumni disclosed this development at a maiden meeting held with the top management officials of the school to regard their support and to attend to topical issues bothering around the development of the institution.
Speaking on behalf of the association, the Alumni National President, Prof. Akinloye Lawal gave kudos to the rector for the act adding that the association believed the act to be a key way of instilling discipline in the students
The association while discussing with the school management requested for piece of land for erection of lecture theatre and renovation of bus stop in the school environment.
They also requested for the involvement of the Alumni as member of the school governing council.
In the same vein, Deputy Rector of the school Sculptor Bayo Oyeleke at the meeting revealed that the reason behind the burning of the mobile phones was due to incessant attempt of students to steal the confiscated phones by buggling the offices of the student affairs as this decision has been a conversational topic for students and critics on social media and through out the state.
Bayo Oyeleke further explained that the institution is focused on maintaining and giving out justice.
"the burnt phones were not a collection at a swape, it's an accumulation of 3-6yrs siezed, every student know it is wrong to come into the exam Hall with mobile phones.
Also to reduce issue of litigation and legal implication. Experience of incessant buglary in the student affairs and office of the chairman exam committee, which made the committee decided to dispose the cellphones."
Also speaking about the recent report of an investigative journalism conducted by Sahara Reporter News website, the rector, polytechnic IBADAN Prof. Kazeem adebiyi revealed that a panel have been set up to check into and investigate the issue.
He added that books must pass through the publishing committee before it can be published or authorized for the purchase by students.
He further promised that justice will be done base on the result and report of the investigating Panel.
The meeting was attended by the Rector of the school, deputy rector, registrar, the instituition public relations officer, chairman committee of Dean, director of poly ventures the Alumni national chairman, Assistant chairman former director of education Lagos State ministry of education and the National secretary.
However while appreciating the alumni the rector Prof. Adebiyi added that national Board of Technical Education rated The Polytechnic, Ibadan the best state Polytechnic, and 4th best polytechnic in Nigeria.