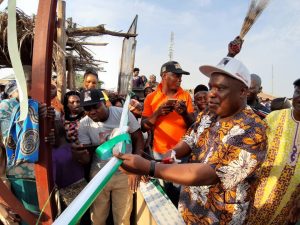 In couple days, election will start, electorate will go to poll to perform their civic responsibility of electing legislatures for both lower and upper chamber of the national assembly and president and later governor and members of state souse of assembly that will steer the affairs of the nation for another four years.
The decision to continue with the present administration or otherwise will be taken by the people who obviously are prepared entrust their vote for candidates of their choices base on conviction and assurance that the people having their votes will not betray the confidence reposed them .
Without any iota of doubt, and base on testimonies and empirical evidences around, Senator Abdulfatai Buhari was not a wrong choice for the people of Oyo North and there is no doubting the fact that re-electing him as a lawmaker will be a worthy investment by the people of Oyo North comprising of 10 local government in Oke Ogun and 3 in Ogbomoso because they are sure of enjoying huge returns on their investment via adequate and functional legislative duties, empowerment and facilitation of Federal projects for the constituency.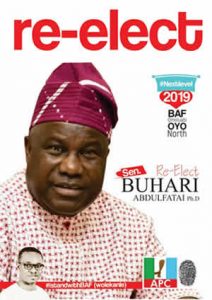 As a lawmaker, Senator Buhari was alive to his responbilities , He is not one of the lawmaker in the house for only Yes or No, Hi or Nill but to loud, the voice of the people he represents and at the same time makes meaningful contributions to issues on the floor of the National Assembly. He has been able to move bills and motion part of which include establishment of a University of Agriculture and Technology in Oke Ogun, a move which is almost at the final state .
He was instrumental to the rehabilitation of Okeho-Iseyin road , his contributions to Ogbomoso-Oyo express road is enormous, just recently he was able to draw the government attention to the deplorable condition of Iseyin Oyo raod, Ikere gorge dam Projects and few others in the state and to an extent his efforts is yielding positive results.
Apary from infrastructural development, Fatai Buhari has contributed greatly to human development in his constituency, he has secured employment for many people, has facilitated training on different vocations for thousands of his constituents and empowered many people with material and financial tools that boosted their economy. In this history of empowerment in Nigeria , Senator Buhari is ranked among the few lawmakers with bogous empowerment programm in the country since 1999. His two empowerment Programm speaks volume and beneficiaries will not forget in a hurry how the lawmaker changes their stories.
He did not only empowered the individuals ,he also facilitated projects that will also benefits communities, part of which is facilitation of 26 ICT centres for training of students, construction of blocks of classrooms over 20 Motorized Solar powered boreholes for communities, transformers for communities and donation of cars to individual, religious group and traditional rulers in his constituents
As a Ph.D holder, Senator Abdulfatai Buhari loves education and he has been playing active role in supporting people in achieving their academic goals, not only that he paid and still paying tuition fees of many students in public and private tertiary institutions Buhari has paid WAEC and NECO fee for over 2000 students across the senatorial district, he has also donated cars and cash to support students organization and as a role model, he uses every opurtunity he has to present papers to preach morality and exposed younger ones to factors that can help people to quickly attain greater height in life.
Unlike many of his conptemporaries, Senator Abdulfatai Buhari is accessible and humble, despite his wealth of experience , age and influence in the society, the brilliant lawmaker is a down to earth person, he doesn't underate or look down on anybody, his phone lines are public numbers and he doesn't give phones to P.A . he recieves all calls and reply messages .He listens to every complains, request and act accordingly. You don't need to go through anybody or any of his aides before you can havd acces him, once he is around be sure you will get his attention and have the problem solved within his capability.
His excellent performace in the last 40 months at the upper chamber of the National Assembly is a pointer to the fact that Senator Abdulfatai Buhari is one of the beautiful ones that should be allowed to dominate our political sheres in the country, not because his is a politician but because he has consistently demonstrated that he is Omoluabi, a man of the people, he has not betrayed the thrust reposed in him and if allowed again he would do more.
Honestly as a political observer, i think Senator Fatai Buhari's achievements should be used as a benchmark for lawmakers in the country, he has demonstrated what Yoruba called Omoluabi, he doesn't use the resources available at his disposal to acquire wealth, built mansions, marry more wives or live a flamboyant life but rater adopt a simple lifestyle and doing everything with his reach to make life secure a better his constituents and it wont be out of place to allow the good work to continue.
Other candidates are credible and responsible too but distinguished Senator Abdulfatai Buhari is the best man for the Job and those who genuinely want Oyo North to develop should not allow party, religion or ethnic affiliation to influence their choices but vote a person that is credible, competent and trustworthy politician that will continue to give them the best.