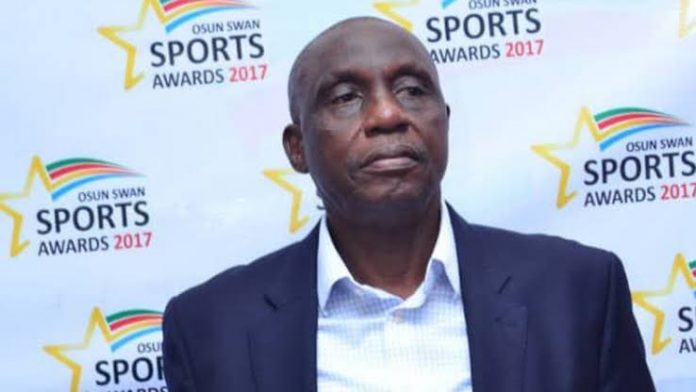 Football legend, Cheif Taiwo Ogunjobi is dead at the age of 66 years.
Cheif Taiwo Ogunjobi dead on Monday  at University College Hospital, UCH Ibadan after a brief illness, until his death Chief Taiwo Ogunjobi was Secretary General of the Nigeria Football Federation and also the Chairman of Osun State Football Association.
Narrating  his last minute movebdecease residential at Kolapo Ishola Estate Ibadan, the closest friend of late Taiwo Alhaji Raheem Olatunji a veteran photo sport journalist said "I cannot beleived the story when I was briefed this morning, in fact I was just helpless as I was calling death death for times without numbers.
"Actually I was called this morning by Dr. Amos Adamu who asked me to call and confirm the story and I started calling his number but none of his calls was picked, I decided to call his wife number she did not pick her call as well then I decided to come around and on getting here I met this sad and ugly incident."
"I still cannot believe this because we talk regularly on phone, I still called him on last week Thursday, when we both agreed to meet in my house to play table tenis game as usual, but I was called today by someone outside the our State that he has dead., so how can I believed that someone that promised to be in my house on Saturday in now at morgue without a serious ailments nor an accident"
Giving account details of the how late Taiwo death, a family friend to the deceased family who pleaded anonymous said "it was Baba that drove himself to the UCH on Saturday evening, and he was asked to have a day bed rest, nothing really happened.
"We were at the Hospital on Sunday it was Baba who told us including Mama his wife to go home and sleep that nothing will happen and he said we should come earlier today to come and pick him so that he can be at home to rest and it was on getting t Hospital this morning that we could not see baba on bed and we were told that Baba has been packed to the morgue as we were told that he has dead."
In his own condolence message former Secretary of the Nigeria Football Federation,  Cheif Bolaji Ojo Oba said it so sad that we lost Skippo at this time that we needed his fatherly role most, our Skippo rest in perfect peace.
The Oyo SWAN chairman  Mr. Niyi Alebiosu in his condolence message said our great leader we will miss you so much, the entire Oyo SWAN members loves you but God loves you so much."
Some dignitaries have been trooping to his resident to paid their condolences visit to the family, some of them are the Oyo State Commissioner of Youths and Sport Mr. Abayomi Oke, Pastor Rev. Femi Emmanuel, Chief Bolaji Ojo Oba and others.
.