Joint Action Forum, a social but non political group in Iseyin local government area of Oyo State has expressed appreciation to Senator Buhari Abdulfatai over the recent approval of emergency rehabilitation of Oyo/Iseyin/Basi/Ago Are road.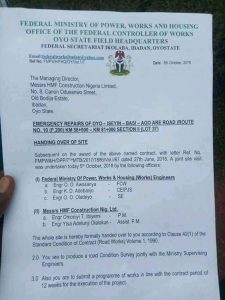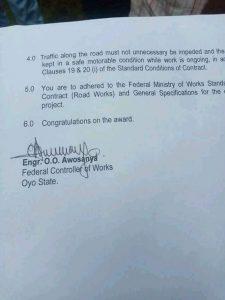 This was contained in a release signed by its coordinator, Alhaji Yusuff Kunle Raji and made available to media houses today.
According to the group, Senator Buhari had on series of occasions presented the state of the bad road at the floor of the Senate where in he charged the federal government to make the road noticeable for the users.
With the recent approval of his proposal by the Federal government which has directed the contractor to ensure adequate rehabilitation of the road, JAF gave kudos to Senator Buhari for being a true representative of Oyo of North in the Senate.
The group also lauded the unrelenting efforts of Kabiesi Aseyin and all his chiefs, Iseyin Elders Council, Iseyin Development Union and host if others who had at one time or the other cried out to the government on the deplorable condition of the road.
The group however admonished the Distinguished Senator and other relevant stakeholders in Iseyin to ensure adequate monitoring of the project so that good work will be done.
JAF added that the bridge should be reconstructed and in the quality that will withstand the test of time.