The seemingly unending crisis rocking the Africa Democratic Congress, in Oyo state deepens as one of its frontline gubernatorial aspirant, Engr. Raufu Aderemi Olaniyan decision to join the Peoples Democratic Party, received a boost, when his supporters from across the state rose from a meeting Monday, in Ibadan to endorse his defection to the Peoples Democratic Party.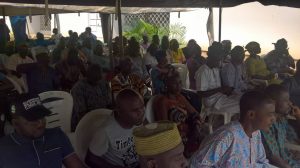 Olaniyan who is believed to have been offered the Deputy governorship slot in PDP, got overwhelming support from his followers, who remarked that the ADC has become an empty house, and a rudderless ship that will not take them to the promise land. They noted that there is no better time to leave the ADC than now.
Speaking at the occasion the Igboho born politician told his supporters that, He called for the meeting so as to seek their consent as they are the reason he is in politics. Reiterating that if he his only considering his personal interest, He would have chosen a certain party that promised money and contracts, However he decided to be guided by their wishes as he is not in politics for himself, but to serve.
According to a communique released after the meeting, it was agreed that he should proceed to work with the gubernatorial candidate of the Peoples Democratic Party Engr. Seyi Makinde to salvage Oyo state from the present misrule.
And if indeed he has been offered the Deputy governorship of the PDP, He should accept, with minimal delays, stressing that he has their blessings.
Also from the communique it is apparent that the former Permanent Secretary in the Oyo state public service, has received the full mandate of his supporters to defect to the Peoples Democratic Party and accept the Deputy governorship on offer.
Similarly, another gubernatorial aspirants of the ADC, Dr. Kola Balogun had also joined the PDP, and will be contesting the Oyo south senatorial election on the platform of the party, just as the ADC state youth leader, Asiwaju Adekola Adeoye has also left the party for PDP.
Among dignitaries present at the meeting are Chief Adetoro, Hon. Oladeji Busari, Hon. Najeem Omirinde,Hon Ayoola Makanjuola Ojo, aka McKenzie, Alh. Lateef Komi, Saki West, Hon. Hakeem Okedina IDO LG. Alh. Lateef Yusuf from Saki East. And many other leaders from the 33 local government areas of the state.