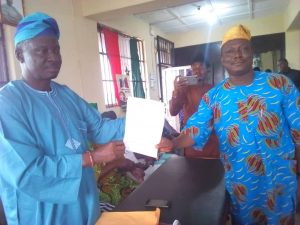 Former Speaker Oyo State House of Assembly and a leading governorship aspirants on the platform of Alliance for Democracy, Dr Akin Onigbinde, on Friday submitted his expression of interest letter to the leadership of the party.
The letter of intent was delivered to the party executives and leaders led by the AD state chairman, Chief Michael Akinropo by the Director, Onigbinde's Campaign organisation, Mr Alfonso Olaniyan.
The meeting which held at the Yemetu state party office was attended by local government chairmen, secretaries, women leaders and elders from the 33 LGAs in the state.
According to Olaniyan, the effort is to show their support and acceptance of the legal luminary's vision to fly the flag of the party at the 2019 election and governor the state.
The Director who was accompanied by the other members of the support group, expressed joy that the party could parade an individual with such pedigree, integrity and resume to contest the election and govern the state in 2019, expressing confidence that "there is no better way to put the state in safe hands, other than working for the victory of the legal luminary at the next years general elections."
Onigbinde is a senior advocate of Nigeria and former speaker of the Oyo state House of Assembly.
Alfonso noted that Onigbinde has proved himself over the years to be an astute manager of men and resources with the requisite experience that will be helpful in transforming the pacesetter state and restore its lost glory.
He said the submission of the intent letter did not come until after due consultations with relevant party stakeholders during a tour of the all the wards across the 33 LGs in the state.
At the meeting which also had representatives of other governorship aspirants in attendance also saw about seven members seeking election into both the House of representatives and state house of assembly also declaring their interest.
While accepting the letter, State party chairman, Chief Akinropo commended Onigbinde for following the laid down principles of the party, noting that the letter had been duly signed by the chairmen of the part at the ward and local government level and assures he will transmit same to the National Secretariat of the party.
The party chairman expressed optimism that the party will regain the state it lost in 2003, come 2019 with the caliber of aspirants that will fly the flag of the party.
Adegoke Olusegun  Jawesola, AD chairmanin Ogbomoso North said Dr Onigbinde  from Masifa/Aguodo ward is a responsible politician that have what it takes to govern the state effectively