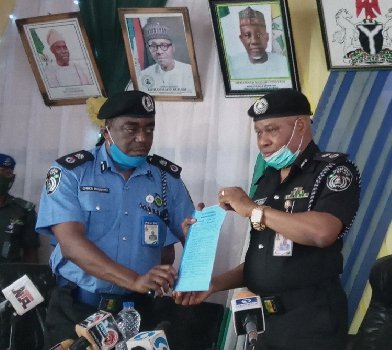 CP shina Olukolu, the outgoing Commissioner of Police Oyo State command todah handed over the mantle of leadership to the new CP Joe Nwachukwu Enwonwu.
The handing over was held at that police headquarter Eleyele ibadan
Olukolu in his speech commended the management team, journalist and other stakeholders for ther support
He said in spite of the challenges he was able to put in place a solid security architecture that has help in reducing crime rate in the state
Olukolu also honour the Officer that was assaulted in Eruwa saying he is an ambassador of Nigeria police. his action and conduct depicts a good moral training which every officer of the policr should be known for
While seeking for suppor fot his sucessor Olukolu said" The new CP is my coursemate my friend a colleague and i can assure that you will enjoy him
I want you to enjoin you all to extend that hand of fellowship but be careful because if you takr his simplicity for granted you will explain".
The new ,CP Joe Nwachukwu Enwonwu in his adress commended Olukolu for his efforts and promised to continue his good works
He urge officers of Nigeria police to b discipline and always respect the faundamental human right of citizens as ensrined in the Constitution of Nigeria.