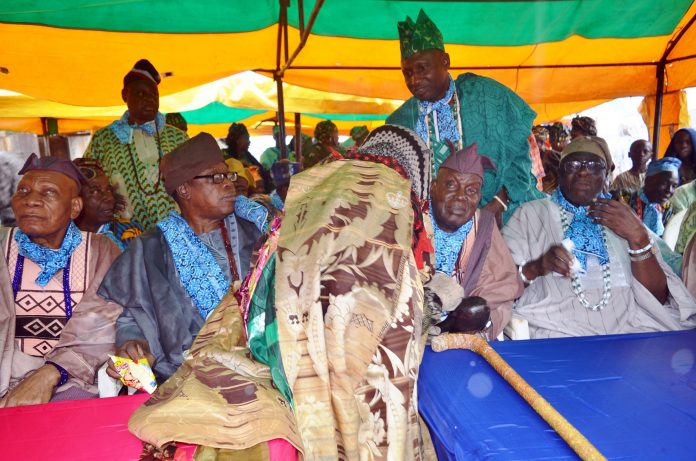 The Oyo State Government on Sunday commended Obas in Ibadan for the peaceful conduct of the traditional homage by the masquerades in the city.
The State Commissioner for Information, Culture and Tourism, Mr. Toye Arulogun and the Special Adviser to Governor Ajimobi on Community Relations, Alhaji Bidemi Siyanbade stated that the Masquerades' traditional homage to the Chiefs in a peaceful and non-violent manner as preached by the state government through the Ministry of Information, Culture and Tourism and the Office of the Special Adviser on Community Relations to the Governor has upheld the traditions and norms of the celebration of the  2018 Egungun festival in the state.
The government said that the resilience of the Ibadan Obas to uphold these norms and tradition of paying homage by masquerades despite the heavy rain on Wednesday and Saturday, June 20 and 23 respectively at Alli Iwo and Ita Baale Olugbode is worthy of commendation and exemplifies the commitment of the traditional institution to the preservation of our culture and tradition, assuring that it will continue to preserve the culture, norms and the traditions of the people of the state.
As this year's egungun festival gathered momentum in Ibadan, some masquerades have continued to pay traditional homage to various Obas in the city.
The Balogun of Ibadan land, Oba Owolabi Olakulehin received some masquerades at his Labiran Ita Baale compound amidst singing, drumming and high level festivies. The leading masquerade, Omoloju Okugbaja from Okugbaja family in Ibadan, who was accompanied by his followers, arrived at the Ita Baale compound around 2:15pm despite the heavy downpour.
In his message at the traditional rite, Oba Olakulehin called on all sons and daughters of Ibadan land to continue to live in peace and harmony irrespective of their religious and political differences, saying, "I express our appreciation to God for the peaceful conduct of the 2018 Egungun festival.  I implore our people to uphold the tradition and cultural values of the founding fathers of Ibadan land and thank them for their support."
The Balogun of Ibadanland had company in other traditional rulers such as the Otun Olubadan, Oba Lekan Balogun, the Eekerin Olubadan, Oba Biodun Kola-Daisi, the Asipa Olubadan, Oba Eddy Oyewole, the Eekarun Olubadan, Oba Amidu Ajibade, the Eekarun Balogun Olubadan, Oba Kola Adegbola who were also joined by notable Mogajis in Ibadanland led by their Chairman, Mogaji Ariori and the secretary Mogaji Isiaka Raji.
In their separate remarks, the Otun Olubadan, Oba Lekan Balogun and Eekarun Olubadan, Oba Amidu Ajibade also prayed for the continued development and unity in Ibadan land as well as the peaceful conduct of the forthcoming general elections in Nigeria.