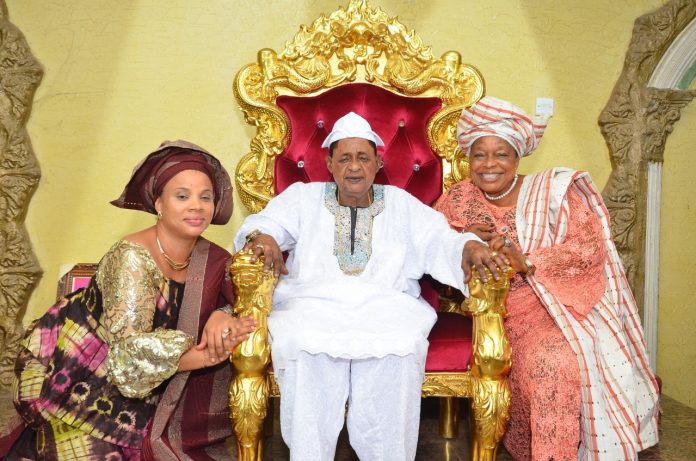 Mrs Aminat Bolanle Sarumi Alliu, a female Governorship aspirant in Oyo state has said her desire to vie for the number one seat in the state was as a result of lack of passion for women, coupled with in-availability of various empowerments and assistances to  their socio-economic status by the authorities concerned.
Alliu while speaking during a courtesy visits to Alaafin Oyo Oba Lamidi Olayiwola Adeyemi assured women that if voted into power in 2019, she would embark on any activity that can improve their economic power, by encouraging and supporting them to develop high-esteem and more confidence in themselves, through exhibiting their God given potentials for good.
''Consequently, my government would continue to provide enabling
environment for women, as well as intensifies awareness campaigns among the rural dwellers for meaningful participation in the development process. This will go a long way in ensuring a bright and stable future", the aspirant pledged
.
Alaafin Oyo, Oba Lamidi Olayiwola Adeyemi 111, in his welcome remark opined said women have great potential necessary to evolve a new economic order, to accelerate social and political development, as well as transform the society into a better one.
According to him ,''today, the number of women in top jobs in the country is still nearly insignificant. it is logical to say that sex does not put limit to the person's ability, as it is the society that assigns gender roles. A woman could attain the same academic level as a man, and as such, assume any leadership position like their counterpart. Woman is not
afforded the same opportunity like men in various endeavours of life.
Family preference for the development of boys over the girls results in
families with insufficient resources neglecting the girl-child in
educational pursuit''.
He went further,''the girl-child is denied education because she is
considered as a poor investment of the future, since she is destined to
marry outside to a different family. Whereas when the boy attends school,
the girls are left at home to assist the mother with household work,
nurture younger siblings, or sent out to hawk to generate income for the
family. This is to ills of the society, that I and you should eradicate by
enlightening the populace on the need to educate the girl-child".
He lamented that men form and lead most political parties, and take up
key position restricting women to the most obvious slot "women wings".
Another dimension to the problem, according to him, is that most women
would not support a female aspirant, creating a situation that does not
allow women's interest to be adequately represented in decision-making.
Alaafin posited that cultural and religions attitudes which endorse male
superiority over the women is the primary basis for gender-based violence against females.
"The male child grows up with the same perception on being superior to
a female child, and this is transferred consciously or unconsciously to his
own children. Most cultural elements contribute to the degrading status of
women. Women carry negative image of themselves deep inside them, which
often develops when they were growing up, and made to feel worthless, weaker and inferior to boys. For instance, when there is a need to choose a leader in a group of say six women and one or two men, a man is picked, no matter his level''.
''This shows that women look at themselves as being inferior to men. This is to challenge any woman experiences from childhood; she is indoctrinated and gives so much restriction, which she tends to live with, women fear they may just embarrass themselves if given public positions. They alsofear what society will think of them, in case of failure".
The paramount ruler therefore urged both the Federal and State Governments to intensify efforts in ensuring that the right of every woman,
irrespective of sex, tribe and religious affiliations is not in any way
trampled upon.
Extolling the virtue of Chief Mrs Alaba Lawson, Oba Adeyemi described her
as '' as  a courageous, resilient and passionate woman of substance, whose dynamism and outspokenness remain source of inspiration to  male
counterparts and future generation''.