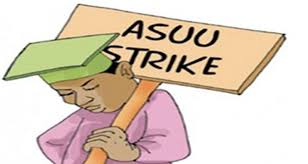 The Ibadan Zone of the Academic Staff Union of Universities (ASUU) has said that non-payment of salaries to workers and university lecturers will deepen corruption and heighten security tensions in the country when students are sent home owing to strikes.
The Zone lashed out at the failure of the Oyo and Osun States' government over their failure to pay 10months salary arrears and their defaulting over statutory function to Ladoke Akintola University, Ogbomoso.
ASUU strike currently on in the branch may become full blown if the governments fail to address their demands within the duration of the warning strike.
The bone of contention is that the owner states refused to fund the University and this has led to 10months unpaid salaries, non-payment of earned academic allowances, pension and gratuity and National Health Insurance Schemes.
The Ladoke Akintola University had yesterday proceeded on two weeks warning strike over non-payment of 10months salary arrears by the two owner states and the refusal to fund the university.
A release signed by the Ibadan Zonal Coordinator of ASUU, Dr Ade Adejumo said allowing the university workers to proceed on another round of strikes would put the progress of the institution on hold and expose the students to crime and criminality.
Adejumo who maintained that it was the height of irresponsibility and insensitivity on the part of the governors of Osun and Oyo to attend to the financial needs of the institution."
The lecturers had to put on hold the first semester examination of the 2017/2018 session put the academic session a shaky and uncertain future.
The chairman of ASUU LAUTECH Dr Biodun Olaniran had maintained that while the lecturers had the interest of the students at heart, it is becoming practically impossible to be responsible parents to their families while their children needs are largely unmet.
ASUU said the union had communicated the governments on the Memorandum of Action before suspending the 10 months strike last year on the need not to renege on the agreement while government continues to beg the question.
"It is total corruption to deliberately create conditions that will make people vulnerable to crime and criminality. Why will government not pay people and be expecting them to work. Which of the governors is not getting paid and receiving security votes? If workers are coming to work for ten months without pay, a reasonable government should be worried about how the people are coping and surviving rather than think everything is normal. This warning strike is to alert the public of an impending full blown total strike if the government refuses to accede to the request of the ASUU members."