Tijani Remilekun Usman is the Chief Executive Officer of BELTIJ Limited, apart from being a businessman he is also a Philanthropist  with great passion to help the less privileged in the society, in this interview with Remi Oladoye Publisher National Insight, TJ as he is fondly called said poverty can only be tackled if  Nigerians are creative and invest more in  factory and Industries that churches and Mosques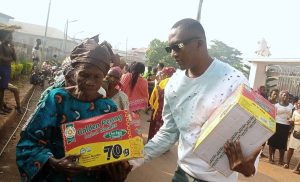 Can we meet you sir ?
My name is TTijani Remilekun Usman, I am a businessman, I am into furniture mining and other businesses , I am a Yoruba Muslim, I am from Ilesha from loro family, I was born and brought up in the Eastern part of Nigeria, Onitsha  to be precise.
You distributed food items to about one thousand people on Thursday,  what informed the decision as a businessman
First of All I am a Muslim and I am guided by my religion, secondly is that if i can buy a shoe of a thousand dollars why can't I give to people to eat, I don't  need to have too much money to do charity its just  an obligations  I belief that comes from within
 This is the fifth edition of the program, can you give an average costs of what you give annually?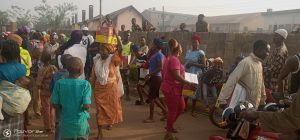 I have been doing this for the past five years and it has been consistent, on every 31st of December. the cost is a fraction of  what God  gives me every  year, what I give is nothing compared to what God gives me every year , I am just a fortunate person who belief in God and HE has  been blessing me and from  I have been blessing other people e too and I am hoping that other business men like me  would emulate same so that they can be a blessings to other people.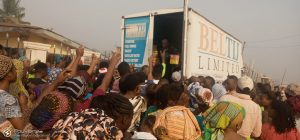 With your level of connection and exposure why did you choose to stay back in Ilesha anytime you are in Nigeria, why not Abuja, Lagos or Port Harcourt
I belief in developing my community , I have travelled all around the world , I have lived in South African for more than 20 years before I  decided to  be  come back home, I belief in  empowering my people  because I know charity begins at home
Apart from giving food items what other things or plan do you have for the people of Ilesha
Scholarships program  and sponsoring overseas training for some of them is in the pipeline,  because I believe if four five people  doing the same thing  annually we can reach out and have more impacts on  the grass root. Just on the 24th of December I hosted about 300 children I donated stationary for them because I belief in education, I make sure that they  also have fun and enjoy themselves as well,  because no ever parent especial with this lockdown  and covid-19, not all of them have money to buy Christmas clothe  and give their children the happiness they deserved  during this festive and we also belief by January February  we'll have nothing less than 150 people employed in mining and furniture in Ilesa
Are you doing this for politics?
No not for politics, I am not interested in Politics.
What's your advice for well to do businessmen like  you  in the diaspora that are yet to connect with root back home
My advice to them is  first , they should remember  their community and country, they  should  also  to reach out to the less privileged people in their community.  You can see the level of poverty in Africa, more especially in our country Nigeria and government cannot tackle it alone,  I want to implore  more businessmen to emulate what is happening today so that they can be of impact and influence in the society and more people will be taken out of poverty.
How best do you think poverty can be best tackled in Nigeria?
The only way  poverty can be tackled is for government  to create enabling environment, government cannot employ everyone but Nigerians especially the youths need to be more creative  in creating more jobs than opening churches and mosques , so that people can be employed and paid salaries, we are not all created to be blessed I believe if we cab built more factor and  industry we  can be  able to engage people rather than given them food , food items is just for those  who can no longer work or those who couldn't find jobs
We are in a new year what your Wish is for Nigerians
I wish Nigerians a prosperous new ear and I hope that 2021 will be better for all of us