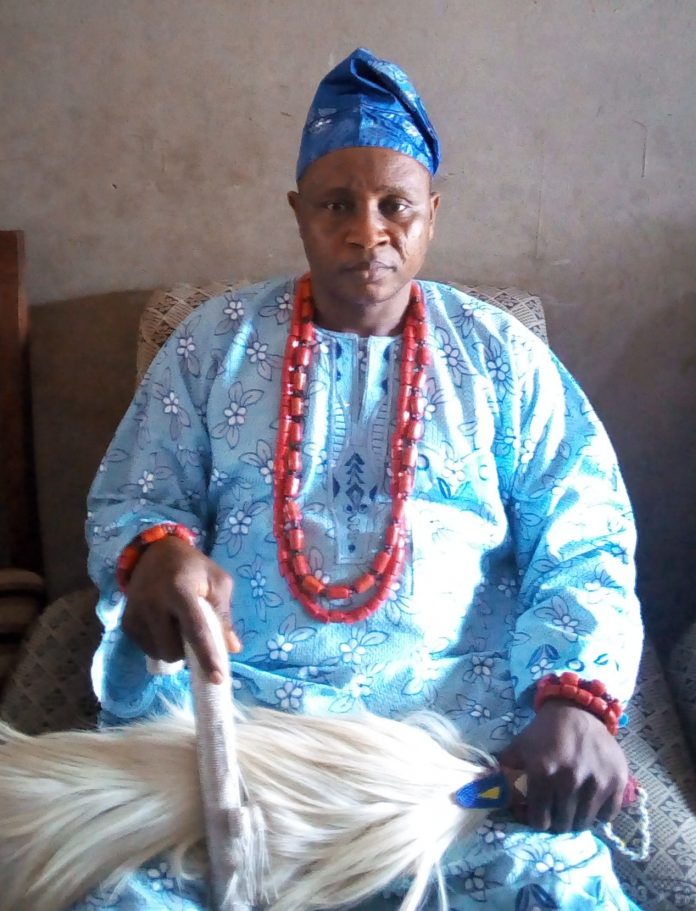 Tunde Bamigbade
  The Alepata of Igboholand Oba Joel Olalere Olawuwo,Olasoroogan the IV,has said his installation as the 4th Alepata of Igboho,was an act of God.
  Olawuwo who discloser  this  in an interview with National Insight,on Friday at his palace in Igboho,Oorelope LG of Oyo state said "No one could have thought i would be the next Alepata even i myself couldn't have thought of it. But when God said it was me,who could query him,nobody i repeat nobody.In life you just have to accept what God,has for you and take it the way it is,and that is how it has been for me.
 He said further that " Since my installation,the people had not have any cause to regret.When i came i met a lot of problems on ground,especially family problems you know families makes up the society.So by the grace of God i was able to solve them.
The monarch maintainedblood-pressure
"  My reign will also witness rapid development in the area of tourism and sports.The ancient Igbo Oba(King Forest) where four Alaafin's were buried has been a shadow of its Old self.So my plans is to turn the place to a tourist center Sports is another area where i will turn my attention to.From time to time i will be sponsoring football competition so as to keep the youths off the streets as well as those adults that have high-blood pressure by encouraging them to go out to watch the football marches so as to reduce their blood-pressure.
Oba  Olawuwo called on politicians not to forget their electoral promises to the electorate,because if they do God will never be happy with them.They should remember that it was the God,and the electorate that put them in power,so they should do what is right.
 "What we know and have seen is that politicians are in government to serve the people,but today they are there to enrich themselves.Our youths should take this note of caution.They should not allow politicians to continue to use them as political thugs,but should appeal to them to bring in small scale industries where by they could be earning a living. He said
 " The only thing a politician can do is to give them #10000,or at least buy a Boxer machine worth #250,000.What can that help the youth to achieve. Let me say this,that not quite long i committed certain assignment to Olumide Ojerinde,who is a member of the Federal House of Representatives,representing Olorunsogo,Oorelope,and Irepo federal constituency.That can bring about development and progress to the town.
  While  commending the Alaafin of Oyo,Oba Lamidi Adeyemi,for his fatherly  advice at all times, Alepata said .He his truely a worthy king that seeks the welfare of his children.He does not mice words he says things the way they are.  My prayer is that he lives long,so that we can continue to enjoy his fatherly love,care and advice.
  When asked to advise the present administration in the county, the monarch said " My advice to the present government,on insecurity,is that they should be pro-active in tackling security issues.How to safeguard the lives and properties of the citizens should be the number priority on their minds.
 Oba Olawuwo concluded that he would ensure is subjects and chiefs will always have regular medical check ups,once in a month,which will be sponsored by him.