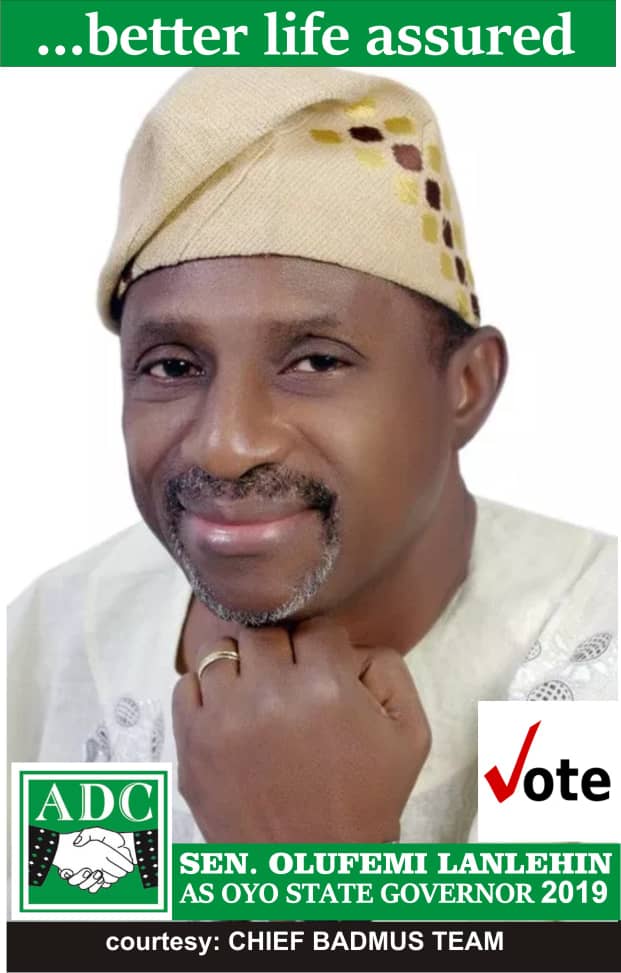 The gubernatorial candidate of African Democratic Congress (ADC), Sen Olufemi Lanlehin, has described as "extremely wicked, reprehensible and unacceptable," alleged plan by the ruling All Progressives Congress (APC) to victimize and sack land owners in Idi-Ayunre sector of Oluyole local government.
In a statement issued on Thursday by the Director of Public Communication, New Media and Tertiary institutions for Senator Olufemi Lanlehin Campaign Organization (SOLANCO), Engr Akeem Olatunji, said: "land owners and most especially the villagers were terrified when several hectares of land were forcefully acquired illegally using the instrumentality of government without adequate compensation for those who lost their ancestral or family lands.
Lanlehin promised ADC administration's total commitment to rule of law and human rights to ensure that all citizens are protected irrespective of their status in the society.
While addressing the community heads, he said "land is very critical to farming, he wonder why the APC led government in the state believe they can go Scot free acquiring peoples land indiscriminately at a time all hands supposed to be on deck to boost agricultural productions.
The ADC campaign train which later moved to Olomi where the governorship candidate of the party commended the House of Representative member representing Oluyole federal constituency, Hon Olusumbo Olugbemi, for his sterling performance in the National Assembly which culminated the N9.8 billion Olomi-Olojuoro-Ijebu 'gbo road contract and several other projects to the constituency and Nigeria as a whole, also applauded his effort on the bills he sponsored for Nigerian International passport.
Lanlehin said " the new policy of 10 years expiry date for Nigerian international passport is also one of the bills sponsored by Hon Olusumbo Olugbemi.
"These are some of the reason why ADC is appealing to the good people of Oluyole to ensure they voted massively for Hon Olugbemi to ensure continuity of brilliant and effective performance and representation.
Calling on the youths to support one of them, the governorship candidate described Dikko as a vibrant and young cool headed man with vision for Oluyole state constituency.
Speaking further, "lanlehin observed the deplorable conditions of most of the roads linking various communities and wonder why Gov Ajimobi led APC government couldn't see the correlation between infrastructural development and economic growth in order to boost agriculture, industries, estate development, mining and other businesses in the area.
"He declared that local government administration under his watch will be totally independent as they will be accountable for their federal allocations and Internally Generated Revenue (IGR), this will encourage rapid development of our various communities and construction of roads at affordable rates will be a priority with local contractors having bigger roles to play both at the local government and state levels.
Imploring those who have not collected their voters card to go to INEC office as about one million uncollected PVCs are yet to be collected.
He said "Under our laws as a nation, the only way to stop a bad government from taken the citizens to the NEXT LEVEL of poverty, joblessness, land grabbing and underdevelopment is to use the PVC wisely and ensure that all ADC candidates are overwhelmingly voted for in the coming general election".
"We have the right to opinion and choice of who to vote for at elections and nobody has the powers to molest or threaten them in the exercise of such rights," Lanlehin said.
"We know that the APC is jittery ahead of the elections but such burden should not be placed on the shoulders of the electorates."
He further urged the electorates to be at alert and foil APC's attempt to intimidate them, Sen Lanlehin also called on Oyo State citizens to ensure their votes are monitored and protected by working together on the platform of the repositioned ADC to rescue the State from APC in 2019