Following the attack on #endsars protesters by Armed Men  at Lekki Toll gate on Tuesday evening angry mob  today set ablaze 2 Bus Rapid Transit (BRT) stations,  Headquarters of Nigerian Port Authority NPA Building and TVC headquarters in Lagos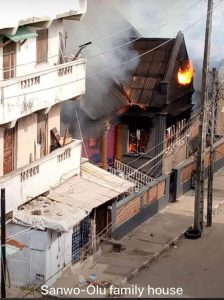 The Angry mob also damaged Oriental Hotels Lekki and invaded the palace of Oba of Lagos .his staff of office and other valuables were carted away by the angry mob.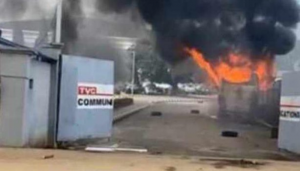 TVC which is owned by Bola Ahmed Tinbu was attacked while 'Your View' a popular talk-show was being aired.
The host of the show Morayo  Afolabi Brown,  who was apprehensive had to go live on Instagram as her car was reportedly vandalized by the angry thugs.
The protesting mob  also burn down , Governor Sanwo Olu Mother's House in Akerele Street Surulere