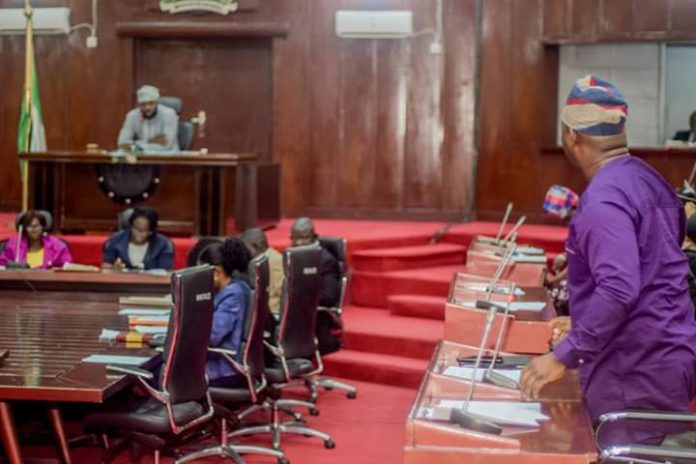 The Oyo State House of Assembly will be summoning the contractor handling the Ibadan Circular road concession project- ENL Consortium Limited, describing it as the best approach towards unraveling the complexities and irregularities surrounding the project.
The lawmakers made the resolution during the Thursday's plenary, adding that ENL threat to drag the state government to the Court of Arbitration in London on the allegation that the firm jerked up a road project cost from N14 billion to N67 billion is not only embarrassing to the good people of Oyo State, but also an insult on the nation's sovereignty.
The 32-kilometre road contract awarded by the immediate past administration under a Build Operate and Transfer concessionaire arrangement at the cost of N67 billion ENL Consortium.
While making contributions on the floor of the house, Hon. Adeola Bamidele representing Iseyin/Itesiwaju constituency noted that ENL Consortium should have send appreciation letter to the Oyo State government and the people of Oyo State for their magnanimity instead of threatening to sue.
According to him, the extremely slow pace of work on the contract which meant that only 5.5 percent of work had been done in two and a half years does not justify the company's readiness to ease the suffering our people are facing due to poor road network.
He said, "The work was stopped initially because a number of issues don't look straight on the Project, ranging from the cost of the contract to the capacity of the consortium and eventual value for money realities.
"Now the Governor Seyi Makinde ordered ENL to go-ahead and complete the project by May 2020 as specified in the contractual agreement signed with Oyo State Government, because he prioritizes provision of infrastructures to the comfort of our people above any fact-finding processes that may take longer than expected."
The Speaker of the house, Rt. Hon. Adebo Ogundoyin expressed shock over the threat from ENL Consortium after review meeting between the contractor and officials of the state government which led to the back to work order.
"If as a contractor, you signed a three years contract in 2017, in 2019 you've not delivered up to 10 percent of the project, then we need to invite such company to come and explain to our people the reason behind this inefficiency.
"The Chairman of ENL, Prince Clement Haastrup has shown interest in clearing his name as he did not want to be derided as one of those that messed up the country.
"Therefore in the interest of our people and the Oyo state government we will be inviting ENL Consortium to come before this honourable house and furnish us with details around the Ibadan Circular road concession project," he added.