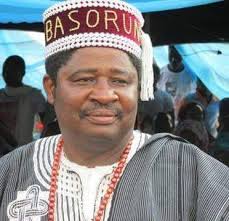 The Ekiti – State Commissioner for Arts, Culture and Tourism, Prof Rasaki Ojo Bakare has expressed the desire of his Ministry at obtaining a patent right on Ere Ayo Arin, an Ekiti indigenous traditional game which is sliding to the ocean of forgetfulness but which the Ekiti State Council for Arts and Culture is branding for visibility.

Prof Bakare disclosed this after watching Ere Ayo Arin, packaged and presented by the Ekiti – State Council for Arts and Culture, at the Ekiti – State Cultural Centre, besides Federal Inland Revenue, off Bank Road, Ado – Ekiti when the commissioner visited the Council .

Impressed by the cultural expression with which the game was presented, Prof Bakare commended the Director-General of Ekiti – State Council for Arts and Culture, Ambassador Wale Ojo – Lanre for his initiative and zeal at bringing Ere Ayo Arin back into the consciousness of the public.

He disclosed that the Yoruba traditional game which was very popular back then in Ekiti has been winking in the dark for attention while retreating into extinction, insisting that the effort of the Council on the game is apt, timely and applaudable.

Prof Bakare revealed that it was because he noticed that this particular game was going out of reckoning that he had to include Ayo Olopon and Ayo Arin as parts of the competitive events at the 1st Aramoko Festival of Arts and Culture.

He revealed that out of the notable traditional games which Ekiti inherited from their forebears, Ayo Olopon has been the only one which has remained relevant and being appreciated by this generation adding that Ere Ayo Arin has been sliding into extinction.

Prof Bakare pointed out that Ere Ayo Arin is not only unique but a special game which trains people in the fundamental acts of development in life
He disclosed that before Ere Ayo Arin could be patented and properly placed on the fore burners of global acceptability and recognition, the game would have to be horned and fine-tuned in line with contemporary technical demands based on international standards in terms of duration, equipment, the platform of presentation and others.

Prof Bakare called on Ambassador Ojo – Lanre to set up a 3- man Technical Committee and bring up a paper on branding and Contemporarising of Ere Ayo Arin for global acceptability, patency and visibility.

The Commissioner assured that his Ministry would assist the Ekiti State Council for Arts and Culture in its zeal at raising the bar of arts and cultural appreciation and rejuvenation beyond the imagination of Ekiti indigenes.