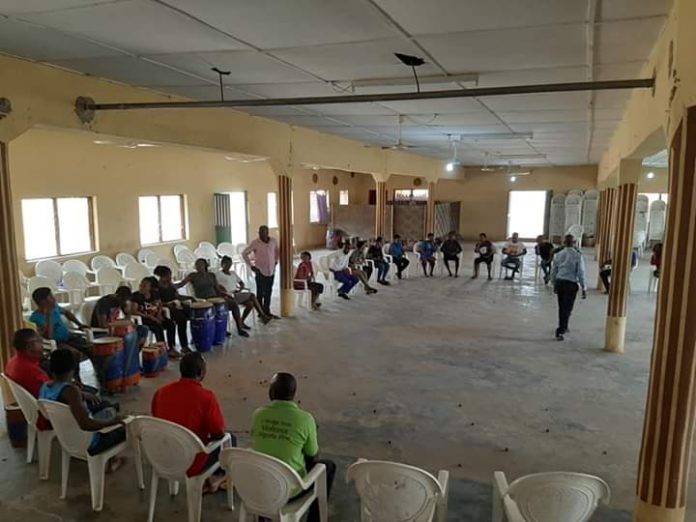 The Director-General, Ekiti State Council for Arts and Culture, Ambassador Wale Ojo -Lanre made this revelation after a presentation of Ere Ayo Arin by members of staff of the Council at the Ekiti State Cultural Centre, Ado Ekiti yesterday.
Ambassador Ojo – Lanre disclosed that Ere Ayo Arin is one of the notable traditional games and entertainment values which are the cultural heritage of Ekiti and Yoruba land but one which is trending fast into the abyss of forgetfulness and extinction
He said that the Council embarked on the rebranding of Ere Ayo Arin in line with the cultural vision of Dr Kayode Fayemi which tasked the Council to rejuvenate and resuscitate notable traditional games of Yoruba which are agents of values building and moulders of growth ethics but which are now decreasing in popularity and visibility
Ambassador Ojo – Lanre said that  Ere Ayo Arin is not just only a recreational and entertainment act but a game which hone and sharpens  the intelligence board, tasks the mental plate and stokes the goal getting  skills of players while it injects excitement, cultivates active participation of the spectators and the audience
He revealed that it is one game which grinds the players' ability to plan, calculate, strategise, target and achieve a set goal, which are all the growth valves which a typical human being needs to accomplish his vision on Earth. ,
Ambassador Ojo – Lanre revealed that research and investigation so far conducted showed that a large percentage of our youths has never watched Ere Ayo Arin being played in its cultural form as well as not even seen the seed being used.
He said he was not surprised when three out of five students on an internship with the Council revealed that they have never watched or played neither have they set their eyes on the seed used in playing the game
Ambassador Ojo – Lanre disclosed that Ere Ayo Arin would be formally presented and performed in Ado Ekiti before being taken on a tour of other local government councils in the state.
He revealed that Ere Ayo Arin tour would be tailored according to the cultural vision of Dr Fayemi which targets the pupils, secondary school students and the youths most of who are in the oblivion of these pristine traditional games which equip and launder the brain for effective functioning in day to day engagement in life.