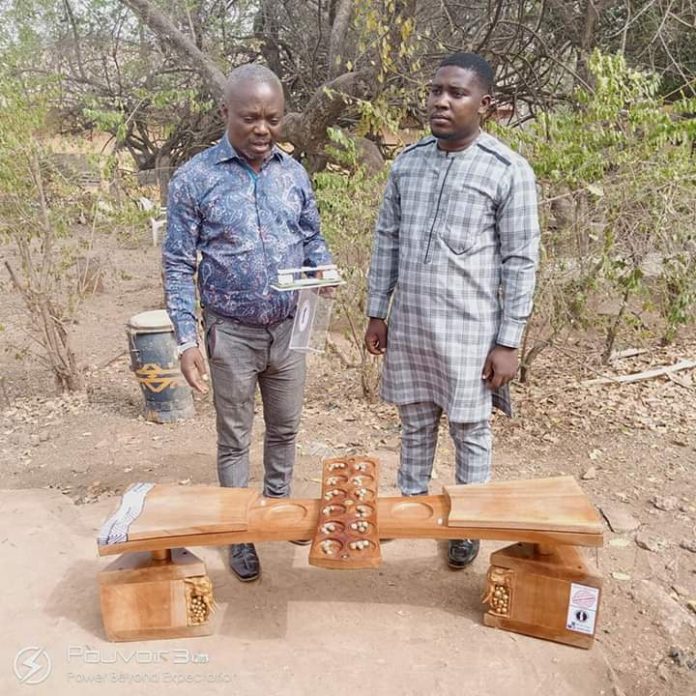 An Ekiti indigene and graduate of visual arts, Adeyemi College of Education, Oluwatobi has branded Ayo Olopon and added value of convenience to its by designing and producing what he described as Ayo Olopon Arena
Oluwatobi who showcased the branded concept of Ayo Olopon Arena to the management and staff of Ekiti State Council for Arts and Culture, Ekiti State Cultural Center, Ado Ekiti, said he was propelled to embark on the feat after a meeting with Ambassador Wale Ojo -Lanre, Director -General, Ekiti State Council for Arts and Culture in November 2019.

He said that the Director-General revealed the intention of the Ekiti State Council for Arts and Culture of raising the status of two traditional games, Ayo Olopon and Ayo Arin from the traditional level to a global platform

Oluwatobi disclosed that immediately after the discussion h went to work and he came out with this unique design of Ayo Olopon Arena which includes the opon ayo, two seats for players, two ayo bank holes, all in one collapsible plank.

Oluwatobi said" As a visual artist and a furniture maker and designer, I believe like the Director-General Ekiti State Council for Arts and Culture that these two games should be elevated from primordial ways of exhibiting them and add the value of innovation for global appreciation and acceptability. '

The Director – General, Ekiti State Council for Arts and Culture, Ambassador Wale Ojo – Lanre commended Oluwatobi for applying his creative talent to add value to Ayo Olopon

He disclosed that one of the tasks put across to the Council by Governor Kayode Fayemi is to harness, har st and enhance young talents in the state and galvanised them into turning culture and arts to powerful agents of empowerment, creativity incubators, revue and employment generation.

Ambassador Ojo – Lanre disclosed that the Council would do everything humanly possible to enhance the creative urge of any Ekiti indigenes in the areas of creative arts, culture and tourism .

He challenges Ekiti youths to emulate Oluwatoba and other Ekiti youths who have found fortunes by branding Akara, Iru and Eja .

Ambassador Ojo – Lanre said" our doors are opened for you to enter and ventilate your creative vision '