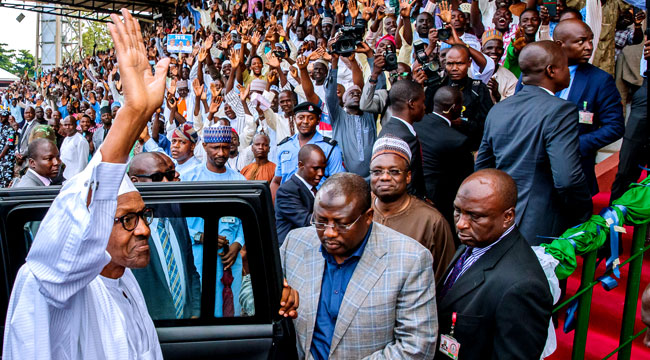 President Muhammadu Buhari has urged his supporters not to be worried about the defections from the All Progressives Congress, (APC) as he expects God to fish out the hypocrites and dishonest people "among us".
The President said this on Thursday in Bauchi at a campaign rally for Gumau Lawal Yahaya, the APC candidate in the Bauchi South senatorial District bye-election, scheduled to take place on August 11.
"God will continue to fish out the bad eggs among us," the President was quoted as saying in a statement by his Special Adviser on Media and Publicity, Mr Femi Adesina.
President Buhari who is seeking re-election in 2019 assured APC supporters in Bauchi that his administration and the party had not forgotten their campaign promises and that they were working to surpass the promises.
He said, "The work we are doing is because of God, our country and you. I want to inform you that the knowledge we have garnered over the years, we won't allow you to be cheated.
"Like we promised, what will determine a good future for the country are security, strong economy and to stop corruption.
"We campaigned on these things, you voted for us and we will never forget."
After more than three years in office, the President and the APC have come under criticism for their performance, especially with regards to the handling of killings in the country.
But President Buhari urged the people to trust his administration as it was working in their interest.
"I want you to trust us in what our administration is trying to achieve. All we are doing is because of God, because of the nation and you," he said.
The President endorsed the APC candidate for the senatorial bye-election in company with the National Chairman of the party, Adams Oshiomhole, and the governors of Bauchi, Plateau, Kano and Imo states.
"We urge you to vote Yahaya, we support him and we believe he will deliver," he said.