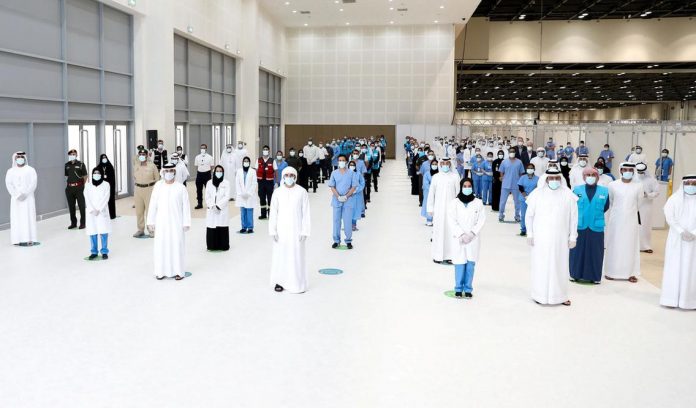 3 field hospitals to open in Abu Dhabi, Dubai
The Ministry of Health and Prevention in United Arab Emirate has conducted over 30,000 additional Covid-19 tests among citizens and residents over the past few days, resulting in the detection of 490 new cases.
The ministry also announced the full recovery of 83 patients after receiving the necessary medical care and the death of three Asian nationals.
The total number of recoveries has now reached 1,443. Speaking at the UAE's regular media briefing on Tuesday, Dr. Farida Al Hosani, spokesperson for the UAE health sector, stressed the importance of increased testing to ensure the early detection of infections, particularly among those exposed to previously confirmed cases.
Also ,In line with the directive of His Highness Sheikh Mohamed bin Zayed Al Nahyan, Crown Prince of Abu Dhabi and Deputy Supreme Commander of the United Arab Emirates Armed Forces, Abu Dhabi Health Services Company (SEHA), the UAE's largest healthcare network, has established three field hospitals in the UAE as it continues to play an integral role in the attempts to curb the Covid-19 pandemic.
Sheikh Khalid bin Mohamed bin Zayed Al Nahyan, Member of the Abu Dhabi Executive Council and Chairman of the Abu Dhabi Executive Office, visited the field hospitals in the Emirates Humanitarian City located in Mohammed bin Zayed city in Abu Dhabi, and the Abu Dhabi Exhibition Center, on Tuesday.
He assessed the facilities' readiness and medical equipment to ensure the UAE community has access to quality healthcare services in light of the current situation. Sheikh Khalid viewed the development of the field hospital in Emirates Humanitarian City, which spans over 29,000 square metres.