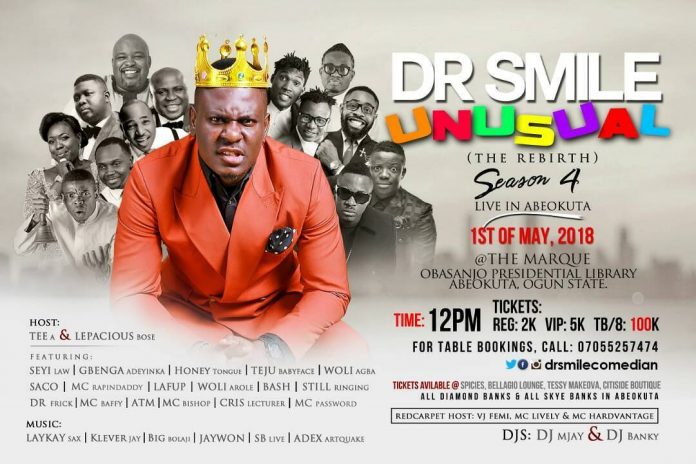 The show tagged  Dr Smile Unusual , The Rebirth is the 4th edition of his show in Abeokuta and it's holding on 1st May at The Marquee Olusegun Obasanjo presidential Library Abeokuta.
On the microphone to crack guests' ribs are Gbenga Adeyinka. the 1st ,Seyi law Honey Tongue, Woli Agba, Bash Still Ringing, Mc Rappindady Woli Arole Still Ringing, MC Bishop, CRIS lecturer and many other so on.
The rave artists expected at the comedy the show includes Jaywon Big Bolaji, Adex Artquake and many others
are to thrill audience to tunes with their melodies
Ogunleye Olamilekan popularly known as Dr Smile told jouralists that the 4th edition is well packaged and feature more artists than the previous edition
"We recorded a good turnout last year and in other to avoid rowdy session we decided to get a bigger place for this edition we are not only interested in people attending the show we want them to enjoy what the pay for.
Apart from the listed artists, Dr Smile hinted that some popular artists will stage susprise performance at the shoh.