It was a celebration galore in Toronto on Friday October, 2019 as Prince Yinka Farinde, The CEO of ABEDORC Productions celebrated and honored Ambassador Osayomore Joseph with Award of Excellence.
Osayomore Joseph, a Benin born, Edo State legend. Osayomore is one of the early pioneers of African popular Highlife music. He is a household name in the ancient city and this has earned him recognition from the palace of the Oba of Benin as the first Benin musician to be so honoured by the palace.
The event which was held at De Runa Event Center,  Gordon Mackay, Toronto, Canada. The historic event which drawn Edo State sons and daughters from different provinces in Canada together to celebrate one of their own.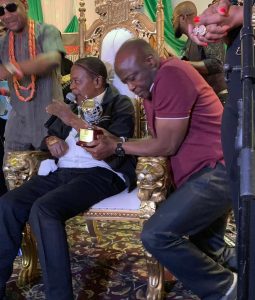 It will be recalled that Ambassador Osayomore was kidnapped in the late 2017 immediately after one of his concerts usually held at the palace of Oba of Benin before
his family and supporters worked out an agreement to secure his freedom. They had to sell a student hostel he owned in Benin City and borrow money to raise the ransom.
Performing for the Oba of Benin has practically been a day job for Ambassador Osayomore Joseph, a living legend of Nigerian highlife music.
In his remarks, Yinka Farinde, the medical practitioner cum Juju music exponent who had in the past brought the likes of Chief Ebenezer Obey, Sir Shina Peters, Otunba Wasiu Alabi among others to the North America applauded and appreciated the participants for coming out to celebrate Ambassador Osayomore Joseph.
He said, i was appalled as well as excited with the turn out of the Edo sons and daughters who left their homes and jobs to rejoice with a great son of Benin City, you have exhibited that the spirit of love and deep affection live in your midst, i hold you in high esteem. Please, allow the bond to remain forever.
Ambassador Osayomore, while thanking the audience, bursted into tears of joy.
" He said, as you all knew, i would have been here but due to the unforeseen circumstances that came up in 2017 we had to suspend the trip but this is the time God destined for me to be here. I sincerely appreciate my brother, Yinka Farinde for deeming it fit to bring me and my crew to Canada to be honoured, I'm short of words, i don't know how to thank you Yinka but God will elevate you beyond your expectations, he will compensate you in many ways and to you my sons, daughters, brothers and sisters in this Hall, I salute you, I commend you, I appreciate you, I thank you all for coming to honor me. He maintained.
Osayomore however thrilled the audience with his oldies highlife music.