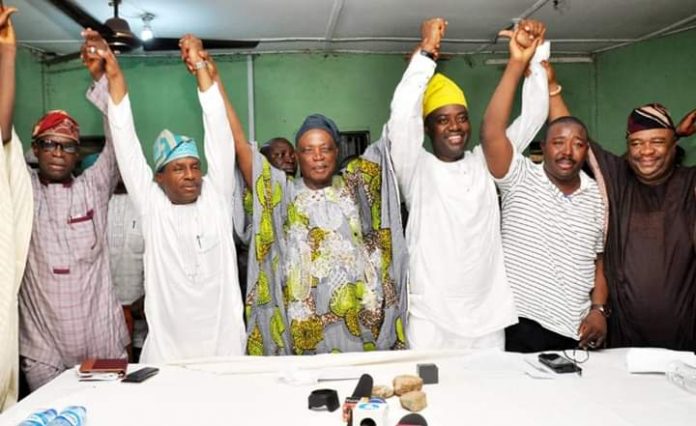 The Coalition of opposition party which include African Democratic Party, Zenith Labour Party, Social Democratic Party on tursday endorses Engr. Oluseyi Makinde of the peoples Democratic Party as the sole candidate in the Saturday governorship election.
The candidate of the various party which include Senator Femi Lanleyin of ADC, Chief Sarafadeen Alli of ZLP, Chief Bolaji Ayorinde of SDP and Senator Rashidi Ladoja, an elder statesman of Oyo state made the official declaration at a Press conference held at the National Union of Journalist (NUJ) Press Centre on Tuesday, 5th of March, 2019.
Senator Femi Lanleyin speaking on behalf of all candidates revealed that the purpose of the coalition is an effort to rule against capitalism administration and for the betterment of the people in Oyo State.
"No sacrifice is much for the rejection of capitalists in our state.
He said further that "All candidates present here willingly agreed to withdraw our ambition from our different parties to liberate our people and Engr. Oluseyi Makinde is representing us as the Sole candidate."
Engr. Seyi Makinde in his acceptance speech expressed his profound gratitude to all candidates for there making effort towards a better Oyo State and promised to make the spirit and intent of them coming together implemented.
The PDP guber candidated also commend the people of the Oyo South senatorial district for voting in Senator elect Kola Balogun and rejecting the incumbent Governor Ajimobi.
He however enjoined the masses of Oyo state to reject The candidate of the All Progressive Congress Chief Bayo Adelabu and his Political father Governor Abiola Ajimobi to reject the act of filtering away Oyo resources to external forces.
In the same vein, former Governor of Oyo state, Senator Rashidi Ladoja while speaking at the conference regards Engr. Seyi Makinde as his Son. He as well promise to give his full support to his candidature.
The conference was honoured by Eminence from various political parties including, Hon. Stanley Oladeji, Hon. Segun Olaleye, Mr. Kola Balogun, Mr. Nureni Adeniran, Alhaja Bose Adedibu, Mr. Qamarudeen Adedibu and other Party loyalties from the hook and crannies of Oyo State