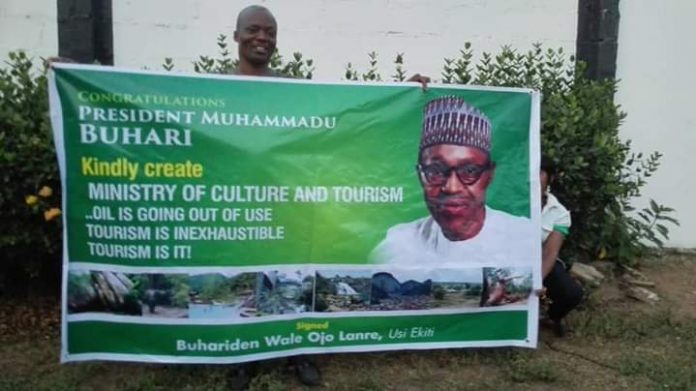 Comrade Wale Ojo Lanre, President Guild of Tourism Editor on Friday stage a lone protest in Ibadan where he called for more attention to the development and promotion of tourism and culture by the government and stakeholders .
Ojo lanre, an Associate  Editor  (Tourism) with Nigerian Tribune newspaper  appealed to the president and state governors  to create a separate ministry for tourism .
Culture and Tourism Ministry is a department under the control of ministry of Information
Ojo Lange who kicked off fro Nigerian Union of Journalists NUJ Secretariat in Iyaganku Ibadan with a banner visited Radio Nigeria and Nigeria Television Authority NTA where he net with the Head of stations to express his views
Ojo Lanre, the advocate of tourism and traveled who has visited over 80 countries in the world expresses optimism that developing tourism will boost the country's economy and enhance creativity and job creations"
Speaking with journalists , Ojo lanre said " Relying on oil money will not take Nigeria to anywhere because oil will soon dry, diversification and annexing other sources of revenue especially through culture and tourism, Agriculture and others is important and the decision should be taken now"
He maintained "There is no state without humongous tourism potentials in Nigeria, our cultural heritage is our pride, a great source of revenue that can promote domestic tourism, we are endowed, it is time we wake up to our consciousness of the need to use tourism as a tool for economic development.
He also called on the government  to enact a law that will compel schools , civil servant, workers of private establishment to visits tourism site at least one in a year  "this would generate traffic and promote domestic tourism."
Ojo lanre however congratulates President Muhammadu Buhari on his re-election as the president of Nigeria and urge him to prioritize the need to increase budgetary allocation for tourism development and establish a separate ministry that will oversee and coordinate the affairs of the sector.
Comrade Wumi Faniran , chairman   Nigerian Union of Journalists NUJ in Oyo state lauded the initiatives and promised to mobilize journalists to support him and join the advocacy.