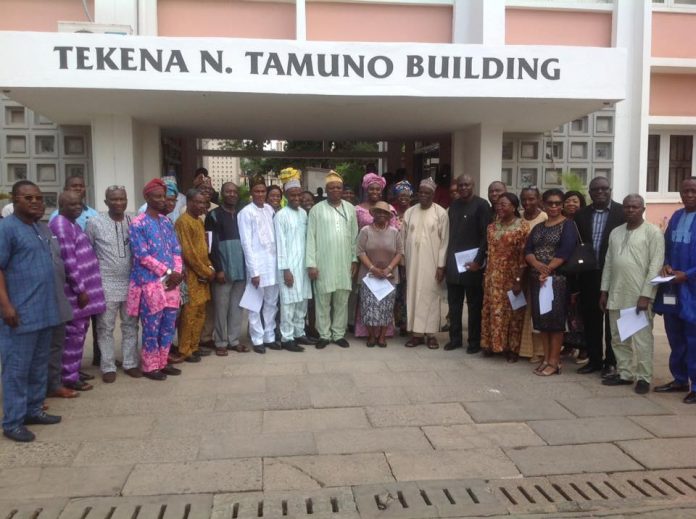 In recognition and appreciation of his contributions to the development of the University of Ibadan , the Management of the institution has renamed the Central Administrative Building after the first alumnus Vice Chancellor , the late Emeritus Professor Tekena Nitonye Tamuno.
The late Emeritus Prof. Tamuno admirably referred to as TNT was the UI VC between 1975 and 1979. He admitted the current VC , Prof. Abel Idowu Olayinka in 1977 as a student along with others.

Speaking at the occasion, the Council Chairman, Nde Waklek Joshua Mutka remarked that the late "Prof. Tamuno eminently deserves the honour , given his contributions to the development of the university , saying more so when the former VC was the first UI alumnus to lead his university .

Nde Mutka noted that history was kind to Prof. Tamuno because his contributions and achievements were well documented, which he said would continue to guild this generation.

Speaking in the same vein, the VC, Prof. Olayinka declared that UI was not doing Tamuno any favour by naming the Central Adminitrative Building after him because "Emeritus Prof. Tamuno and his wife diligently served UI with all their energies and intellectual resources"

"He deserves every honour we can accord him. We are not offering him any favour by naming this building after him. Instead of calling this place Central administrative Building or Central Porters' Lodge, we just felt why can't we name it after this man that has done so much for us", Prof. Olayinka stated.

Responding on behalf of the family, the spouse of the honoree, Mrs. Oluwafunmilayo Tamuno who also served as University Librarian described the honour as huge, pointing out that the family will be eternally grateful to the university.

"We both came here together. We served UI with all our power, we raised all the children here, and we grow old here, therefore UI is so dear to our hearts as we are so attached to it. I am sure my husband will be very happy seeing this honour.

The brief ceremony which was an interlude in the on-going Council meeting drew all members of Council.

Born in Okirika, Rivers state on January 28, 1932, Tamuno attended St Peter's School in his hometown of Okrika for primary education. Upon completion, he attended Okrika Grammar School. From 1953 to 1958 , he studied History at the University of Ibadan before leaving the country in 1960 to continue his studies at Birkbeck, University of London and Columbia University. In 1962 he joined the Department of History at the University of Ibadan.