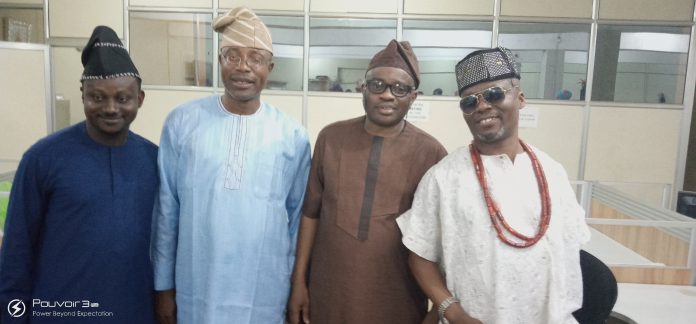 Nigeria Union of Journalists, NUJ Tribune chapel on Thursday held commendation night in honour of three of its members who are currently serving as aides to governors of Oyo and Ekiti state
The trio included Ambassador Wale Ojo Lanre, Director General, Ekiti State Council for Arts and Culture, Mr Taiwo Adisa, Chief Press Secretary to Oyo state Governor, Engineer Seyi Makinde and Moses Alao, Special Assistant ( Print media) to Governor Makinde

The event which was held at the newsroom was attended by the State Executive of the Council led by its Chairman Comrade Demola Babalola and others.

Chairman NUJ Tribune chapel, Chief Tunde Busari in his opening remark said the trio are good ambassadors of Nigerian Tribune as they have been diligently and effectively discharging the roles assigned to them by their principals.

Busari said, the commendation night was just to honour and to encourage them to do more and at the same time encourage others.

In his remark, Ojo Lanre said his sojourn in Tribune which started in 1991 has afforded him many opportunities to fuel his passion of becoming a journalist and contribute greatly to the development of Nigeria especially in the area of Culture and Tourism which he is a specialist .

" Journalism is power, and Nigerian Tribune empowers me as a journalist to use my talents and bring out the best in me and many of us, as at the time I was employed in Tribune, had three offers, one in Bank, the other in Oil company and another in Tribune, I opted for journalism not because I don't want money but because I know journalism is power and today I have no regret because journalism has offered me what money cannot give me .

" As a Tribune staff, I have travelled to over 80 countries of this world, interact, dine and wine with powerful people of this world and today I am one of the most travel journalists in the World courtesy of the platform offered by Nigerian Tribune
Ojo Lanre who also served as chairman NUJ Tribune Chapel and Chairman Oyo state Council, however, urged the media practitioners in Tribune not to relent in their efforts at making The Tribune retain its leading position in Nigeria print media through editorial content and quality production.

Taiwo Adisa, and Moses Alao in their separate remarks also commended the Union leaders for honouring them and pledged their continued loyalty to the Tribune