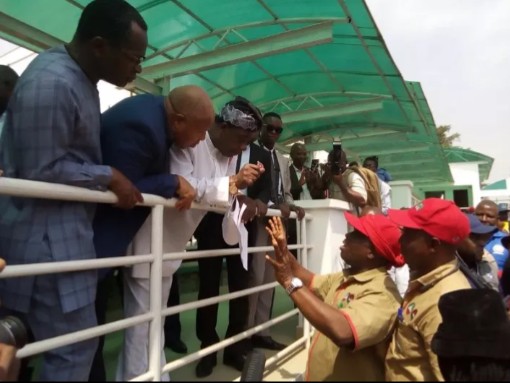 The National Vice President (Southwest) Com. Lateef Oyelekan
has urged the president to transmit the agreement made by the tripartite committee on the minimum wage to the National Assembly so that the Governors can go ahead to implement the agreement.
Oyelekan made this call during the rally organized by Nigeria Labour Congress NLC oyo state in Ibadan on tueaday
According to him, the agreed minimum wage of 30,000 is a product of serious and comprehensive negotiations by the tripartite committee set up by the federal government and President should no longer any waste time in transmitting the recommendation to the National Assembly for the necessary enactment.
Also Oyo state Chairman of NLC Com. Waheed Olojede, while adressing workers at the governor's office underscored the importance of passing the new minimum wage into law and implementing it.
He saw no reason why Nigeria as the Giant of Africa will find it difficult to implement the new minimum wage of #30000 which was even not enough to cater for workers need considering the high rate of inflation in the country.
According to him, the organized labour has tried it best in compromising during negotiations and reneged from the #60,000 minimum wage initially demanded from government and thereby wants the government to reciprocate the gesture by acting in good faith to implement the new 30,000 agreed by the tripartite committee.
Olojede advised that Oyo state as the pace setter state in the country should indeed set the pace and serve as example for other states in the implementation of the new minimum wage.
A letter from the national body of the NLC to the state government was thereafter handed over to the Deputy Governor of the state Moses Adeyemo,
who addressed the workers,
The Deputy Governor, Moses Adeyemo who recieves the organized labour lauded the decorum with which the state NLC carried out the rally and protest.
He noted that the state government was trying its best in ensuring that the welfare of workers was held paramount and assured the organized labour that their letter would be delivered to the state Governor, and promised that the state government will not relent in prioritising workers affairs in the state.