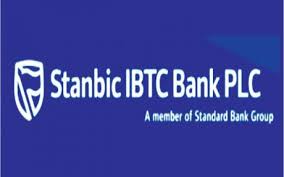 Stanbic IBTC Holdings Plc, a member of Standard Bank Group, has announced impressive half- year results for the six months period ended 30 June 2017, with gross earnings at N97.198 billion, an increase of 36.28 per cent over the N71.320bn recorded in the corresponding period of last year.
Following the release of the audited results, which was submitted to the Nigerian Stock Exchange in Lagos on Tuesday, August 29, 2017, the board of directors declared an interim dividend of 60 kobo per share, the highest declared so far this year.
Zenith Bank, GTBank, UBA and Access Bank had earlier declared interim dividends of 25 kobo, 30 kobo, 20 kobo and 25 kobo respectively, to shareholders, also on account of impressive half year financials. Stanbic's HY results also showed that profit before tax increased by 86 per cent to N29.169bn during the period, from N15.682bn last year.
Profit after tax at N24.112bn was a growth of 113 per cent compared to N11.317bn in the corresponding period of 2016. Total assets went up by 21 per cent to N1.273 trillion from N1.053trn in December 2016. Expressing delight at the result, Chief Executive Officer, Stanbic IBTC Holdings Plc, Yinka Sanni, stated, "The domestic environment in the first half of 2017 recorded a decline in headline inflation, improved foreign exchange liquidity and a gradual economic expansion as measured by the Purchasing Managers' Index.
The improved operating environment positively impacted our businesses leading to significant improvement in our financial results." He said, "Income before impairment charges grew by 43 per cent, driven by a sustained growth in yields from investment securities and trading activities.
Interest income increased by 55 per cent; and trading revenue grew by 81 per cent, positively impacting profit after tax, which increased by 113 per cent year-on-year. The balance sheet grew by 21 per cent year-to-date, as trading assets and financial investments increased by over 100 per cent and 19 per cent respectively.
"Our cost-to-income ratio continued to witness improvement, standing at 47.0 per cent at the end of H1 2017, when compared with 57.7 per cent in H1 2016. The growth in non-performing loan ratio is on account of some newly classified loans in line with economic realities.
We are optimistic that this would moderate towards the end of 2017." According to him, "Stanbic IBTC's progress over the first half year was impressive in many areas; and in particular, we are delighted with our ranking following the latest release of KPMG Banking Industry Customer Satisfaction Survey, which showed our retail banking business improving in ranking from the 4th position to the 3rd position; and our corporate banking business improving from the 10th position to the 4th position.
This is well-aligned with our strategy to drive customer centricity." Sanni said, "The group will continue to explore opportunities to grow our business and market share responsibly through the adoption of an appropriate risk appetite and excellent service delivery." The group maintained adequate capital to support its business and drive business growth in H1 2017.
The group's total capital adequacy ratio at the close of the period was 22.9 per cent (Bank: 20.2 per cent) and Tier 1 capital adequacy ratio of 19.2 per cent (Bank: 16.1 per cent). These ratios are well above the 10 per cent minimum statutory requirement. The group's liquidity ratio closed at 100.24 per cent, while the bank's liquidity ratio was at 90.37 per cent at the end of H1 2017. This ratio is significantly higher than the 30 per cent regulatory minimum.
Read more at: https://dailytimes.ng/business/stanbic-ibtc-declares-highest-interim-dividend-60kshare/