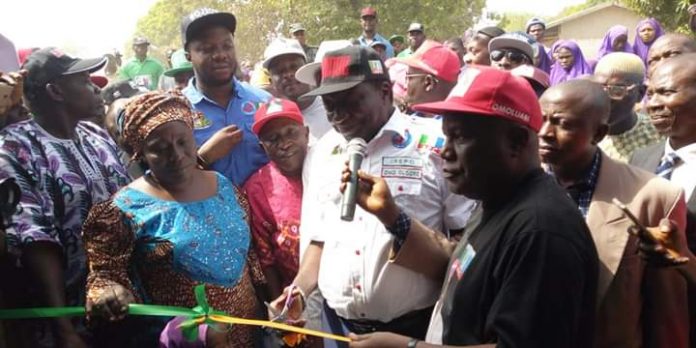 Senator Abdulfatai Buhari the Senator representing Oyo North Senatorial districts on Tuesday takes the senatorial campaign to Olorunsogo and Oorelope local government in Oke Ogun area of Oyo state.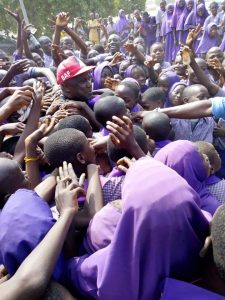 The All Progressives Congress, APC Lawmaker lawmaker who is also the Chairman Senate Committee on ICT and Cybercrime is seeking re-election into the upper chamber of the National Assembly.
Hundreds APC members and residents of the towns in oke ogun communities trooped out to received the Ogbomoso born politician
The lawmaker who also commissioned ICT centres which he facilitated  the local governments was also joined by House of Rep candidate for Olorunsogo/Irepo/Oorelope Federderal Constituency, Olumide Ojerinde, Emeritus Professor Dibu Ojerinde and Senatorial Chairman, and councile chairmen.
At the commissioning,the lawmaker emphasized on the need for for everybody to be computer literate. " We all need to comply with the technology advancement that is going on in the world. every member of the society need basic computer education including the farmers and with this that we are commissioning today i am sure many of our people will take time to utilize the opportunity to acquired ICT knowledge
He maintained that " Our younger people especially those seeking admission into tertiary institution will not need to travel to city for training on Computer Based Text CBT once this is here and can be use for training .
After the commissioning the lawmaker hold meeting with party stakeholders where he urged them to ensure their party APC win election in their domain in 2019.
"Continuity is the key, we should not allow the actions and inactions of the opposition to dampen our morale, we should be prepared for the poll with the intention to win and lead the people into promise land through effective governance and adequate representation at all level"
He however promise not to relent in his bids to facilitate more federal government presence in the district.