The lawmaker representing Oyo North Senatorial District at the Upper Chamber of National Assembly, Senator AbdulFatai Omotayo Buhari in collaboration with the National Productivity Centre, today at the Ogbomoso Parapo Hall, Apake, trained and empowered 150 women in Oyo North Senatorial District in Soap Making And Disinfectants.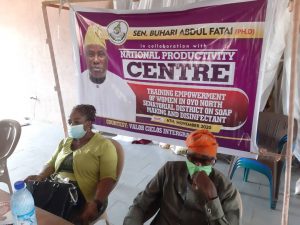 The resource persons, Mr Oladipupo Muniru and Mr Olaniyi Odunsi, tutored the attendees on various aspects of soap making and disinfectants before going into the participatory practical aspects of the training.
The trainers were tutored on several topics which include ; precautions and safety during productions, materials needed for production, chemicals and their functions, production procedures, storage techniques and set up work space.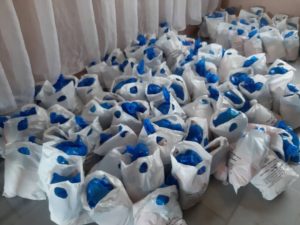 The Chairman Senate Commitee on Land Transport who was ably represented by his Special Adviser On Political Matters, Hon Abiodun Adedeji Adeyemo, appreciated the senator for his tireless efforts in empowering people with the soul aim of alleviating poverty in the land.
" We bless God for giving us a good, responsible and responsive representative in person of Senator AbdulFatai Omotayo Buhari whose focus is to ensure improved standard of living of the down trodden.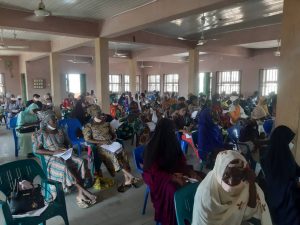 " Soap making and disinfectants is a very lucrative business and it is my believe that with the lecture and practical works being taught today, the participants are good to go.
" This might be what some people need to make it in life. Big things start in little wways which you are starting today.
" I urge all participants to make very judicious use of the start up pack and cash given", Hon Abiodun Adedeji Adeyemo said.
The one day training programme had in attendance participants across the 13 local governments that constitute Oyo North Senatorial District which the senator is representing.
Each of the participants was given a start up pack, #20,000:00 and certificate at the end of the one the training.
The programme also had in attendance the State Coordinator (Oyo, Ogun and Osun) and the Chief Information Officer of the National Productivity Centre from Ibadan and Abuja centres in persons of Mrs Adeyemi Kehinde and Mr Balogun Abidemi.