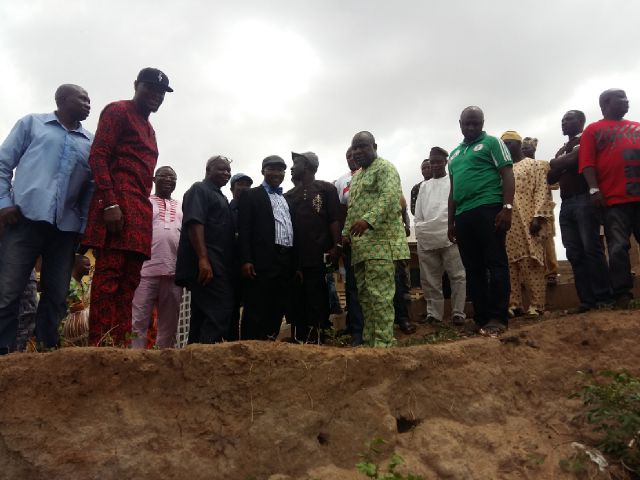 Chairman Senate Committee on ICT and Cybercrime, Senator Abdulfatai  Buhari on Thursday flag off  N1.37 Billion ecological fund  projects  for his constituency in Ogbomoso.
The projects include, Construction of odo Alamo  road , iwagba area, Oke anu, Ogbomoso, , Construction of flood control odo omosin,  Ogbomoso and Construction of flood control odo oloko masifa ogbomoso .
Speaking during the flag off  of the project in Ogbomoso , the senator representing Oyo North Senatorial districts at the upper chamber of the national assembly said the project is part of his campaign promises to the people of his constituency
" One of our campaign programme is to enhance healthy and better environment for our people to lived in , part of which we are doing today and by the grace of God we will ensure completion of the projects very soon.
 While urging the construction company to ensure quality job, he also appealed to the people of ogbomoso especially the affected area to cooperate with the construction firm.
He however promise not to relent in his bid to ensure Oyo North Senatorial district get its right share of dividends from the Federal government
Representatives of the construction firm Mr Sam James of Sam James Nigeria Ltd assured quality and speedy completion of the project and seek for cooperation of the ogbomoso people during the execution
He said further that the people of Oyo North should be grateful to Senator Buhari for the projects because  securing such huge projects require lot of lobbying  which he painstakingly did for the benefit his people
Also the Project consultant Engr. Kayode adaramoye,and representative of Ecological fund Engr. Tony Afuye commended Senator Buhari for facilitating the project for the people of his constituency.
 Speaking on behalf of the the caretaker chairmen  of local government in ogbomoso zone, Hon Abiodun Adeyemo  chairman of Ogbomoso South Local government described Senator Abdulfatai Buhari as a leader with genuine interest and passion for his people