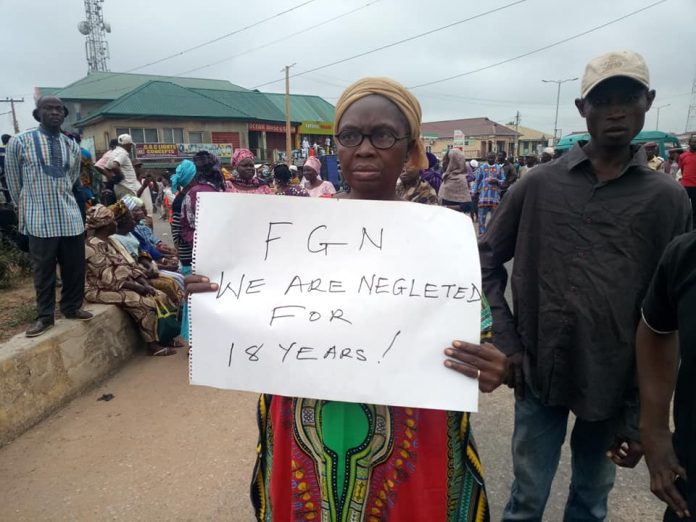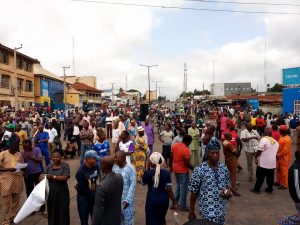 Residents of Ogbomoso community in Oyo state continued their demands  for completion of Ogbomoso-Oyo road today with a peaceful protests in the town
The major road linking Oyo – Ilorin through Ogbomoso has been blocked since morning and  the blockage is still on  as at the time of filling this report
Hundreds of residents gathered at Taki Square with carrying placards  and banners with various inscriptions such as " FG Complete our road" " 35 mins Journey now 2 hours " ogbomoso-Oyo road is our book haram"" Stop the killings fix our road" " We are not animals we deserve better roads'   Complete 18 year projects" and many others
Socio cultural organizations, religious groups including Christians Association of Nigerian, CAN Ogbomoso zone,  Igbo Community, Hausa Community  and   others  interest groups were part of the protest,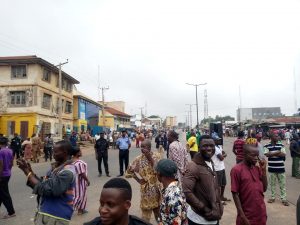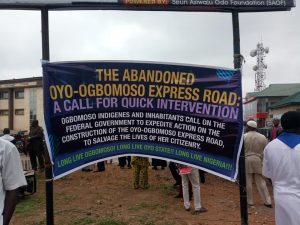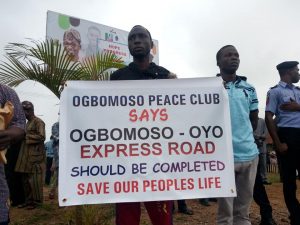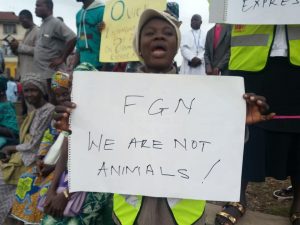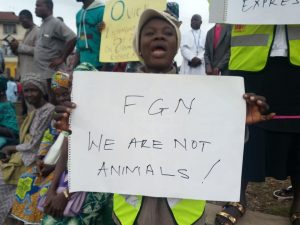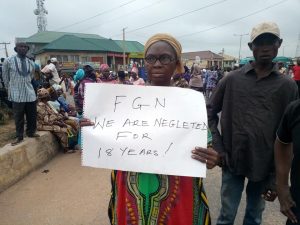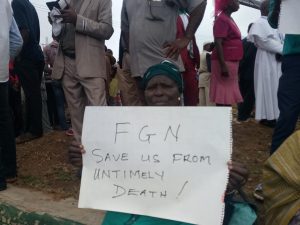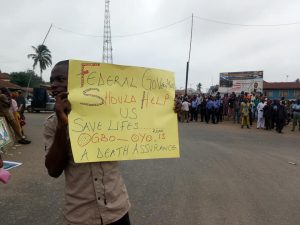 According to statistic made available in a press statement signed by Reverend Israel Olaniyan (Head of Churches in Ogbomoso), Bishop Adebayo Akintola (Secretary, Head of Churches), Chairman, League of Imams and Alfas, Ogbomoso zone Alhaji Imam Nafiu Abdulkareem Atanda and Hon. Michael Abioye (Secretary, Egbe Omo Ogbomoso Parapo Agbaye),15 people lost their lives weekly and that 780 people lost their lives in a year, adding that 14,040 people have died on the road in the last 18 years
The press conference was held in June  where they gave the Federal government August 1 the ultimatum to complete the dual carriage road
During the conference, they  maintained that the old road, which they called death trap, has led to the death of many youths, women and other promising indigenes and non-indigenes of the town because the new road which suppose to be the solution has been abandoned by the federal government.
Rev Israel Olaniyan said , "The construction of the dual carriage highway which started 18 years ago has left the Ilorin-Ogbomoso and Oyo-Ibadan portion in a particularly deplorable condition while the Ogbomoso-Oyo axis of the express road is yet to be started. The situation has left no option for commuters than to continue to use the old Ogbomoso-Oyo road which is a one lane road plied by vehicles of all sizes, going to and from the Northern Nigeria.
"Statistics at our disposal indicates that an average of 15 persons die on the road per week. In a year, it indicates that an average of 780 persons is lost on this road. Multiplied by 18 years since the road was awarded, it shows that an average of 14, 040 persons have lost their lives on Ogbomoso-Oyo road. This is alarming and calls for urgent completion of the express road under construction.
"These have been a recurring decimal that must not be allowed to reoccur. An accidental death on the road has drastically cut short the life expectancy of persons living in this part of Nigeria."
Olaniyan, while appealing to the federal government to expedite action on the abandoned road, urged it to declare a state of emergency on the Ogbomoso-Oyo road and ensure that the road is completed latest by August 1st this year.
He said, "We indigenes and inhabitants of Ogbomosoland do hereby appeal to the Government of the Federal Republic of Nigeria under the leadership of President Muhammadu Buhari, to expedite action on the construction of the Ogbomoso-Oyo part of the Ibadan-Ilorin road.
"We appeal to the Minister of Power, Works and Housing, His Excellency Babatunde Raji Fashola (SAN), to as a matter of urgency, declare a state of emergency on the Ogbomoso-Oyo road and ensure the road is completed by August 1st 2018.