His Spiritual Eminence Aworeni Adisa Awoyemi a.k.a. Makoranwale, the Araba Agbaye and Oluisese has joined his ancestors yesterday in Ile-Ife, the ancestral home of the Yoruba.
His Eminence was born to the family of late Pa. Awoyemi and late Mama Adeloore Awebi of Oke-Itase and Oke-Morisa compounds of Ile-Ife respectively in the early 1930s. Baba Araba as was fondly called did not attended any formal education due to the death of his father.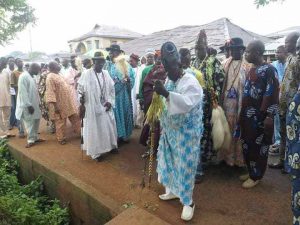 He lost his father when he was a child. Due to death of his father, he lived with his maternal uncle in Ifewara, a town within Ijesa territory and the home town of the  General Overseer of the RCCG, Pastor Enoch Adeboye.
He helped his uncle in farming activities and other jobs assigned to him.
When he came of age, he was trained as a mechanic. He trained as Tractor and other big trucks mechanical engineer. He  stayed  in Osogbo while working as Tractor mechanic before he shifted his workshop to Ile-Ife. Baba workshop in Ile-Ife started from Aderemi Road before he moved to Oke-Ogbo. It was from mechanical profession, he ventured into sawmill business.
Baba Araba journey into Araba traditional institution did not start suddenly as he was one of the beloved "boys" of Araba Awosope. Araba Awosope installed him the Olori-Iwarefa  Awo Olodumerindinlogun in the 80s. With the death of Araba Awosope in mid-80s, he vied for the office of Araba but lost to Araba Omopariola Fasuyi. Despite losing, he remained loyal to Araba Omopariola, Awo Olodumerindinlogun and the entire Oke-Itase family.
He emerged as the Araba Agbaye on May 25th 1991 after the death of Araba Fasuyi. Since his emergence as the Araba Agbaye, he has taken Ifa tradition to a greater level.
It was during his tenure as Araba that the Osun State government renovated the World Ifa Temple in Oke-Itase, Ile-Ife to modern hall with modern facilities. His reign witnessed numerous chieftaincy titles as he installed Araba of Cuba, USA as well as other black-Americans and Yoruba in Diaspora were honoured with different Chieftaincy titles.
It was during his reign that the Awo Olodumerindinlogun Hall,  Oke-Itase compound received tremendous renovations. He received numerous honours and awards for his contributions to preservation and propagation of Yoruba culture and tradition, particulalrly Ifa from Nigeria and outside the country.
Baba Araba travelled across the globe where he had Ifa faithfuls. Some of the countries were Argentina, Paraguay, Mexico, Cuba, Spain, USA, UK, Brazil, Jamaica, Ghana, Benin Republic among others. He was blessed with wives, children, grandchildren and great grand children