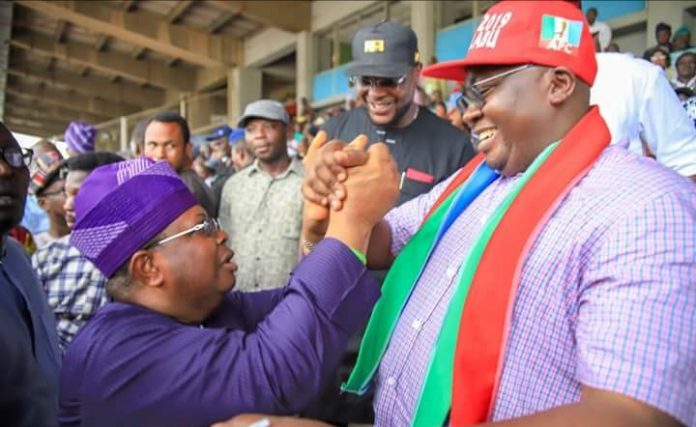 The 11th hour decision by the Executive Governor of Oyo State, Senator Abiola Ajimobi to endorse and support the candidacy of the former Deputy Governor of the Central Bank of Nigeria , Bayo Adelabu , was a surprise to many political gladiators and stakeholders in Oyo politics.
From initial indications,the game was in favour of one of the major stakeholder at KPMG and a close ally of Senator Ajimobi, Joseph Olasunkanmi Tegbe.
His relationship with Senator Ajimobi and his political group SENACO and some prominent traditional rulers in the State, gave him an edge over other aspirants on the platform of the APC.
Interestingly,other aspirants including Otunba Adebayo Alao Akala, Dr Azeez Adeduntan, Dr Isaac Owolabi, Barrister Niyi Akintola, SAN,Dr Sola Ayandele and Chief Bayo Adelabu all have what it takes to govern the State effectively.However,their chances were slimmer compared to that of Tegbe,who has about 80 percent of Ajimobi camps support.
But Bayo Adelabu's relationship with the late Arisekola Alao and some Ibadan elders is an advantage because these are not just opinion moulders but influencer of decisions who always have their say on issues relating to Ibadan & who governs the state.
Majority of these people were skeptical about Ajimobi's choice of Tegbe because of the claims from some quarters that he is not from Ibadan but just want to use Ibadan identify to usurp the chances of an Ibadan indigene to become the next governor .
However, Tegbe's opposition raises the conciousness of many stakeholders to the fact that Ibadan people might not support his ambition based on identity crisis allegations leveled against him and that he was the architect of the staff auditing in the state which led to the sack and redeployment of some civil servants.
Though Senator Ajimobi was adamant about his choice of Tegbe and was not ready to shift ground
It was also gathered that Asiwaju Bola Tinubu who was also skeptical about Tegbe's choice asked Ajimobi the reason Tegbe's identity was controversial and if he thinks Ibadan people will support such a person if 'selected' as party candidate.
Thus, Tinubu's skepticism was cleared by Ajimobi and he reluctantly said yes to his choice.
The intervention of Oba Otudeko and other stakeholders who are in support of Adelabu also influence the decision.
Aside from Tinubu and Ibadan factors, the result of Osun election was another factor that changed the narratives .What happened in Osun was least expected and they don't want to risk the recurrence of such event in the state. Already,the decision of Unity Forum, the breakaway faction of the party to team up with Senator Rashidi Ladoja in ADC is a threat and fielding a controversial candidate may affect the chances of the party.
It would be recalled that on the 24th September, Ajimobi rushed down from Osogbo and called for a stakeholders meeting to deliberate on the matter. Feelers and responses from those present at the meeting also helped Adelabu. The meeting and consultations were ongoing till Saturday evening when Ajimobi eventually succumbed to the pressure from all angles to drop Tegbe and adopt Bayo if he wants APC to retain Oyo State in 2019.
Although, Bayo was not giving up on his intention but majority of those who started with him had left,owing to one issue or the other but all bothered on his ability to manage people some said he is stingy while to some he is a nice man who is passionate about other's growth and willing to help.