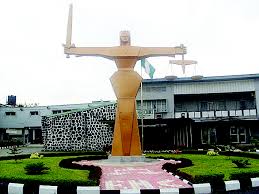 An Ibadan chief Magistrate court has ordered that a  clergy man Pastor, Adejare Adebayo be remanded in Agodi Prison Custody, for allegedly cutting off his wife's left breast with a kitchen knife which resulted into the death of the 43 years old woman.
The victim Mrs. Risikayat Adegbule aged 43 was said to have died, a few days later, as a result of the excruciating pain suffered after losing one of the breast to the knife of her husband.
Appearing before the Chief Magistrate F. Richard of court 2 yesterday, the accused man pleaded not guilty to the one-count charge.
The crime was allegedly committed at Onikankan Village, Ibadan on the eve of last Christmas.
Adebayo is said to be the pastor in charge of a pentecostal church around Tose Area, Moniya Ibadan
According to sources, the accused man reportedly said that he helped the wife cut the other affected breast because she had earlier suffered cancer in her right breast.
Family sources also claimed that Adejare had taken to deceased wife to an unknown place for weeks before he resurfaced with the news of the death
The charge sheet marked Mc/26c/2017 and signed by the Prosecutor, Mr. Sunday Ogunremi reads: "that you Pastor Adejare Adebayo on 24 December 2016 at 12 am, Onikankan Village, Ibadan did unlawfully cause the death of Rukayat Adegbule aged 43 by cutting her breast, thereby committed an offence contrary to sec. 316 and punishable under vol.11 sec. 319 of the criminal code cap ix Vol. 11 of the Laws of Oyo State.
"Further investigation revealed that the family members of the deceased had been looking for her only to be called later by the husband informing them of her death."
The case  was however  adjourned to February 14, 2017,while the accused was  ordered to be remanded to Agodi Prison Custody.
packaged By Yemisi Ajayi