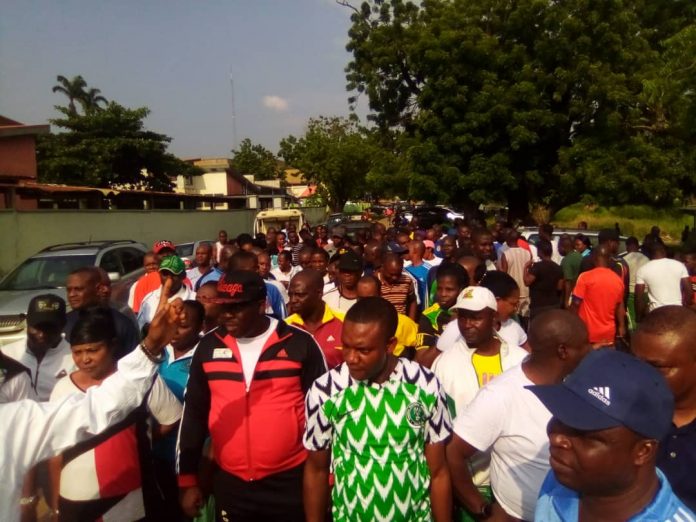 Kehinde Ayanboade,
Ibadan.
Following the deliberative policy of the Inspector General of Police, IGP Abubakar Adamu in recognition of the fact that periodic sporting exercise is a strategic pillar and key tool to healthy life and reaching the pinnacle of success in any chosen career.
Oyo State commisioner of police, CP Shina Olukolu on Wednesday evening led 210 inspectors, 70 officers and members of the Press for a Sporting Roadshow at the Oyo Police command Headquarters, Eleyele Ibadan.
Olukolu who regarded Sporting activities as 'a signpost to good health' while addressing the newsmen during the exercise further explained that the reason for re-inventing the activity is to re – energize, re – vitalize, keep physically, mentally, emotionally healthy and to tune up the fitness level of officers with the hope to encourage bonding comradeship and professionalism.
The commissioner recalled that "incidents of sudden collapse of officers while on duty have been recorded due to the stress related illness while performing their lawful duties" and could have been prevented if they go through periodic exercise.
He added that various police officers who distinguished themselves in the area of sporting activities have won awards for the country stating the likes of Haruna Ilerika, Julius Agawa, and Chioma Ajunwa who won a Gold medal in the Atlanta Olympic Games in Long jump in 1996.
The Roadwork kickstarted with a trekk from the Command Sport complex towards the creche, to the command gate, to the officers mess and back to the sport complex ending with series of athletic exercise.
CP Shina Olukolu however noted that the exercise shall hold periodically to strengthen and encourage togetherness in the service of Nigeria.