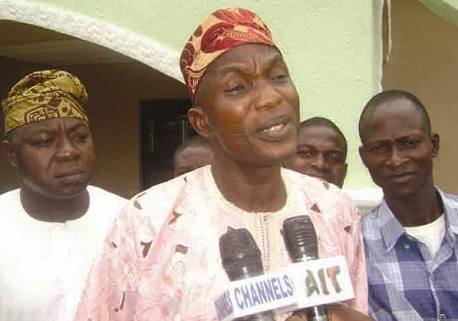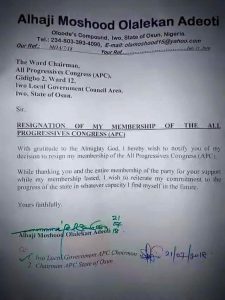 The  Secretary to Osun State  Government, Alhaji Moshood Adeoti has resigned his  membership of the All Progressives Congress (APC).
Adeoti , who was a governorship aspirant under the APC withdrew from the party's primary election a day to the exercise, alleging that the process had been manipulated
The resignation letter was  duly signed the SSG  and addressed the Ward Chairman of APC, Gidigbo 2, Ward 12, Iwo Local Government Council Area.
The letter entitled : "Resignation Of My Membership of The All Progressives Congress (APC) was dated Saturday, July 21, 2018 and was copied the state chairman of the APC.
It reads, "with gratitude to Almighty God, I hereby wish to notify you of my decision to resign my membership of the All Progressives Congress (APC)
"While thanking you and the entire membership of the party for your support while my membership lasted, I wish to reteirate my commitment to the progress of the state in whatever capacity I found myself in the future. "
An unconfirmed , report has it that Adeoti is perfecting plans to join the Alliance Democratic Party and would be contesting the September 22 governorship election of the state under its platform.