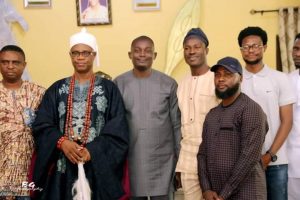 As part of his effort to create jobs and boost Ondo local economy Oba Dr. Victor Adesimbo Kiladejo, has met young entrepreneurs, captains of industries, financial consultants, marketing gurus and opinion molders to chat a new pathway to sustainable economic development and security in Ondo Kingdom.
The event that happened at the Osemawe Multipurpose hall, within the palace of the Osemawe attracted young and vibrant individuals of Ondo extraction and resident from all walks of life.
In his address Oba Kiladejo appreciated the readiness of Ondo youths to develop the community. He said he cannot be more happy to see young Ondo entrepreneurs come together to deliberate on how better to move the community forward.
The monarch said the Palace has held many of such gatherings with various groups and professional associations in the community but not with the young entrepreneurs residing in the community. He said the Palace interest at this time is geared towards sustainable youth and economic development.
Oba Kiladejo said the economic development of the community rest on how innovative its citizens, especially youths can be in this 21st century. He urged them to patronize made in Ondo products and be good ambassadors of the community at all sphere of life. He promised the inclusion of talented young people in the planning and celebration of annual Ekimogun day. And Ekimogun business group was proposed by the Osemawe to come up with a working document on Ondo economic development plan.
Participants who took turns to express their minds enjoined the Palace to work on how Adeyemi college of Education will become a full fledged University. Dr. Akinrinade particularly noted that the school has once being named but was reverted by the government.
In his own contribution, Com. Sola Akinbinu emphasized on the educational stride of Ondo Kingdom, saying that invaluable contributions Ondo Kingdom in the past on education must be sustained.
Hon. Olubodun Tayo Marcus, the Executive Director, Centre for Sustainable Grassroots development noted that Ondo Kingdom is blessed with a lot of Tourism and hospitality business potentials that must be tapped into. He said Ondo as a community and people must explore the economic viability of numerous Festivals, events and tourist attraction sites it has.
Com. Tayo Marcus stated that his research showed that many people working in neighbouring community reside in Ondo because of its accommodating and hospitality potentials and urged that the sector should be considered as a key factor to the economic development of Ondo Kingdom.
A five man committee was constituted to draft the communique as a blueprint for the actualization of plans deliberated in the meeting.